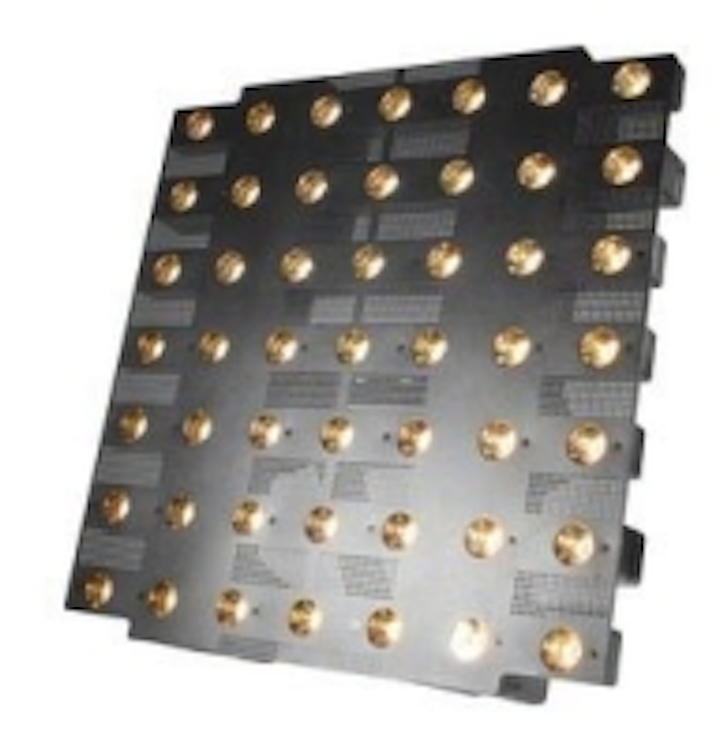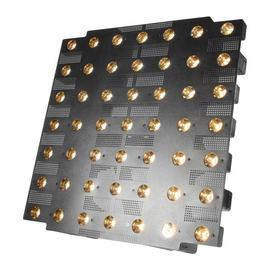 Date Announced: 10 Dec 2013
SUNRISE, Fla. – CHAUVET Professional has added the Nexus Aw 7x7, an extremely versatile warm white LED panel, to its Parnelli Award-winning series of Nexus LED displays. Emitting bright, narrow beams from 49 powerful 3-watt 2,800K CREE LEDs, the Nexus Aw 7x7 offers the flexibility to generate high-impact aerial effects, produce warm white washes, project outward as an audience blinder, or create vibrant text and animated graphics displays.
Designed for use in arrays, Nexus Aw 7x7 panels feature a quick rigging system with integrated alignment and load-rated interlocking hardware for easy construction of displays of all sizes. This adaptability in both configuration and function makes Nexus Aw 7x7 panels ideal for a variety of applications – from live events, touring and stage productions, to nightclubs and entertainment venues, to broadcast/studio lighting.
Using one of several control options -- Kling-Net, Art-Net™ (49 channel) or DMX (5 or 49 channel) protocol – operators can easily create stunning pixel mapping displays, serving up the electrifying eye candy that's become an essential element of productions and events of all types today. A smooth dimming curve and built-in automated programs are among the other tools that designers will value in this brand-new member of the CHAUVET Professional Nexus series, which is part of the subgroup of Nexus Affinity™ system-building LED panels.
"Our initial Nexus series offering, the Nexus 4x4, won the 2013 Parnelli Award for Indispensable Technology, and we were thrilled and honored to see it get recognized for the exceptional quality and performance that we worked so hard to attain," said Ford Sellers, Senior Product Manager for CHAUVET Professional. "Now with the new Nexus Aw 7x7, we've brought award-winning Nexus standards of excellence to a warm-white narrow-beam LED panel, which is virtually limitless in its design versatility and applications."
Equipped with a built-in power supply, 3- and 5-pin DMX connectors, Neutrik® etherCON® input and output, and Neutrik powerCON® power input and output, Nexus Aw 7x7 panels' flexibility and ease of assembly makes them a perfect fit for the rental market. An optional Affinity Rig Kit is available to further simplify the building of large displays, allowing 10-16 panels to be hung vertically, compared to 4 panels without the kit. CE and MET certifications ensure that Nexus Aw 7x7 panels meet safety standards of all types of venues.
Compactly designed, each panel measures 19.7 x 19.7 x 3.5 inches (500 x 500 x 90 mm) and weighs 17.2 pounds (7.8 kg). The panels have a 7° beam angle and 12° field angle, and produce a stunning 9,400 lux @ 5 meters. Energy-efficient and low-maintenance, their LEDs are rated at 50,000 hours.
About CHAUVET® Professional
CHAUVET® Professional offers innovative professional lighting fixtures for the production and touring market as well as permanent installation in theaters, hospitality venues, cruise ships, clubs, television and architainment applications. For more information, please visit www.chauvetprofessional.com.
About CHAUVET®
CHAUVET®, headquartered in the U.S., is a leading manufacturer of professional luminaires fulfilling the needs of various industry sectors. CHAUVET® has four main sub-brands CHAUVET® DJ, CHAUVET® Professional, ILUMINARC® and TRUSST® that share the unified strategy to pursue every market segment where it has a competitive advantage in terms of value, innovation and performance, with an emphasis on LED technology. For more information, please visit www.chauvetlighting.com.
Contact
Chauvet Professional
E-mail:jramirez@fucinipro.com
Web Site:www.chauvetpro.com