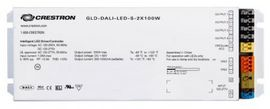 Date Announced: 26 Jun 2013
New Crestron Green Light® dimmable LED drivers now shipping
Features independently controlled channels; reduces the number of drivers needed for direct and indirect lighting strategies
Rockleigh, NJ – Crestron today announced that its new Green Light dimmable LED drivers are now available. The new line of Crestron dimmable LED drivers provides high-power LED lighting with deep dimming to below 1%. Available in 50W and 100W models with DALI® or 0-10V control, GLD-LED drivers offer superior, smooth dimming technology using a combination of duty-cycle and current dimming. All 50W models are available with two output channels while all 100W models are available with four output channels.
Greater cost-saving benefits for DALI models
DALI models feature added cost-savings for end users and superior design versatility for lighting specifiers. DALI controlled models are available in versions that allow output channels to be independently controlled for multiple LED sources. The 50W DALI models feature two independently controlled outputs. The 100W DALI models feature two sets of two independently controlled outputs. For fixtures featuring direct and indirect lighting strategies, such as those found in video conferencing rooms, independent output channel control capability in a single driver reduces the LED driver requirement by half.
"Crestron is now delivering superior LED dimming and control performance while dramatically reducing the cost of delivery," said Mike Malone, Crestron VP of Commercial Lighting Controls. "We do this three ways: by delivering a programmable driver family we reduce luminaire OEM inventory costs; with our DALI LED drivers that have separately controllable channels we cut half the cost out of the driver in luminaires with direct and indirect lighting components; and finally, we open the way for the economical delivery of tunable white light applications without resorting to DMX or more costly and proprietary driver module combinations."
The new line of Crestron LED drivers is the latest addition to its end-to-end lighting control solution that extends from the user interface to the fixture. Crestron lighting control systems are built on open standards to deliver the best of both worlds: specifiers enjoy total vendor interoperability and the design community can deliver lighting controls that adapt to new technologies. In addition, organizations can leverage the efficiency and cost savings of partnering with one company that can provide a complete fully-integrated commercial lighting control solution.
"Crestron control solutions provide a single point of responsibility for all of an organization's lighting control needs, including system design, specification support, installation, programming and lifecycle support," said Malone. "By building on open standards like DALI, Ethernet, and BACnet®, Crestron solutions offer competitive choices without locking customers into costly proprietary systems that they'll be paying a premium for in the years to come."
Contact
Joyce Essig, public relations manager 201-767-3400
E-mail:jessig@crestron.com
Web Site:www.crestron.com