Dow Corning sees LEDs in general lighting applications being boosted by higher-refractive-index optical silicones
Jun 11th, 2013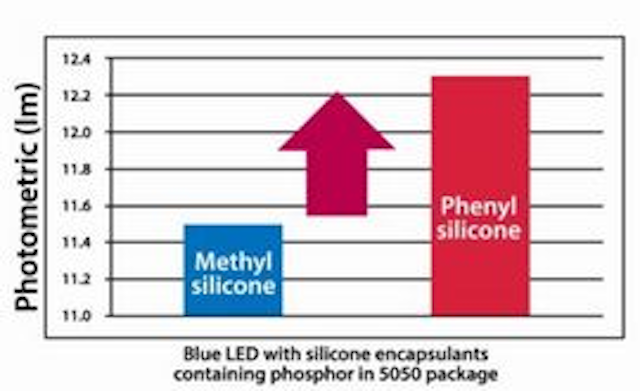 Date Announced: 11 Jun 2013
Guangzhou, China – Increases in LED power and output over the past decade have fueled adoption first in mobile device displays, then in flat panel televisions and now in general lighting applications. Asia currently leads the market transition to LEDs for general lighting, driven especially by swift penetration in China, according to analyst firm McKinsey & Company, which projects China's compound annual growth rate for LED-based general lighting to be 43 percent through 2016. Dow Corning – a global innovator in silicones and silicon-based technology – expects a key factor in this growth will be adoption in China of high refractive index (RI) materials, such as phenyl-based optical silicones that can significantly boost light output without costly investment in more powerful LED dies.
The company is highlighting its technological leadership in high RI phenyl silicone optical encapsulants at the 18th Guangzhou International Lighting Exhibition 2013 (Hall 3.2, Booth #D36).
China will join many countries this year in implementing a national ban on incandescent lightbulbs. Many believe this will further fuel demand for relatively higher efficiency LED illumination in general lighting applications. Yet even so, the general lighting market is continuously pushing toward technologies that enable higher and higher efficiency products. As a class of materials, silicones promise to facilitate this trend by offering very high transparency, advanced thermal- and photo-stability as well as excellent processability. But, of the two major silicone chemistries – characterized either by phenyl or methyl groups on the molecular backbone – phenyl silicone offers comparatively higher RI of 1.54 vs. methyl's RI of 1.41.
"That apparently small 0.12 difference in RI has a big impact on LED output," said Kaz Maruyama, global industry director, Dow Corning Lighting Solutions. "Even if you use the same chip, case and input power, LED packaging fabricated from phenyl silicone can translate into about 7 percent more light output vs. methyl silicone encapsulants. Achieving a comparable performance improvement from the LED chip would require significant investment. So, phenyl silicone packaging offers a very cost-effective and simple alternative to significantly improving LED output, efficiency and value."
In addition to higher RI, Dow Corning's broad portfolio of phenyl silicone packaging materials delivers thermal stability suitable for many high-power general lighting applications, including today's 5W – 50W chip-on-board LED architecture. Compared to methyl technology, phenyl-based silicone encapsulants generally offer a comparatively stronger gas barrier. This helps protect silver electrodes against moisture and corrosion that can turn them black. Because these electrodes double as LED reflective elements, enhanced gas barrier protection helps maintain both the performance and reliability of LED output.
"Dow Corning's customers in the global LED packaging segment have clearly articulated that any improvement to LED output is critically important to meeting their internal and industry roadmaps for LED general lighting applications," said Eric Peeters, vice president of Dow Corning Electronic Solutions. "The relatively high RI of our phenyl silicone packaging materials signals a very cost-effective way to significantly increase and maintain the quality of LED output, and underscores Dow Corning's leadership as a supplier, innovator and design collaborator for the global LED value chain."
Dow Corning is a global innovator of high-performance silicon-based materials for the next generation of lighting. Its solutions span the entire value chain, adding reliability and efficiency for sealing, protecting, adhering, cooling, and controlling light across all lighting applications. To learn more about its advanced silicone technologies for LED lighting applications, visit dowcorning.com/lighting.
About Dow Corning
Dow Corning (dowcorning.com) provides performance-enhancing solutions to serve the diverse needs of more than 25,000 customers worldwide. A global leader in silicones, silicon-based technology and innovation, Dow Corning offers more than 7,000 products and services via the company's Dow Corning® and XIAMETER® brands. Dow Corning is equally owned by The Dow Chemical Company and Corning, Incorporated. More than half of Dow Corning's annual sales are outside the United States. Dow Corning's global operations adhere to the American Chemistry Council's Responsible Care® initiative, a stringent set of standards designed to advance the safe and secure management of chemical products and processes.
® Dow Corning is a registered trademark of Dow Corning Corporation.
® XIAMETER is a registered trademark of Dow Corning Corporation.
® Responsible Care is a registered service mark of the American Chemistry Council, Inc.
Image courtesy of Dow Corning.
Contact
Mirella Kimpen, Dow Corning Electronics Solutions +32-64-888-413 (Europe)
E-mail:mirella.kimpen@dowcorning.com
Web Site:dowcorning.com/lighting