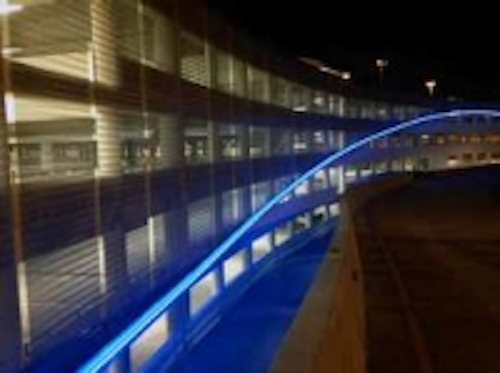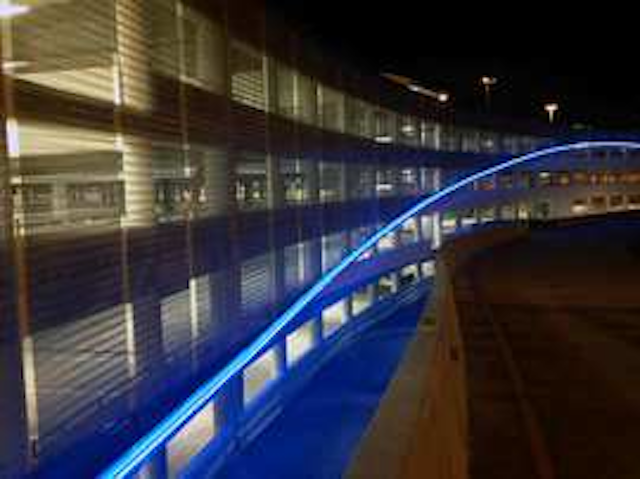 Date Announced: 04 Jun 2013
The fourth largest airport in the USA, Dallas/Fort Worth Airport has recently completed the first major construction phase of its $1.9 billion Terminal Renewal and Improvement Program (TRIP). The seven year renovation of the airport's four original terminals began with Terminal A and its three parking garages. The plans for Terminal A called for over 375 feet of GVA Lighting's color changing Highlighter® HL-DL to be installed horizontally on a long run along the parking garages outer wall. The Highlighter® HL-DL can be seen from miles around, helping accent the architectural detail of the buildings surface and unifying the immense airport space.
The DFW airport will be amongst the most modern and advanced in the world, being designed to meet the needs of visitors for the next 50 years. Over the next four phases of the TRIP project, hundreds of feet of Highlighter® HL-DL will be installed across parking garages, creating a modern and forward reaching design for one of the country's largest and most forward thinking airports.
Aside from creating over 2000 jobs in design, construction and contracting, the TRIP project has created an opportunity to engage the Dallas and tourism community in a meaningful way. DFW Airport is one of the country's busiest airports, offering nearly 1,750 flights per day and serving 57 million passengers a year.
Highlighter® HL-DL is a modular LED lighting system for large scale installations such as airports, bridges, sky scrapers and shopping malls. Typical applications include architectural delineation where long runs are necessary and limited power feeds are available. The long run along the parking garage's outer wall was achieved through GVA Lighting's proprietary power and control system, INFINITY™, allowing for runs up to 672ft with a single power and data feed. The modules were installed and connected end-to-end to create the long linear stretch of light along the exterior of the airport. The Highlighter® HL-DL system consists of three components: the Highlighter® module, an aluminum mounting profile and an acrylic diffuser. Each Highlighter™ module is a fully sealed to product against all weather conditions, including local Texas humidity and is IP66 rated. Each foot of Highlighter® contains 18 LEDs.
About GVA Lighting, Inc.
GVA Lighting is a Canadian manufacturer of innovative, high end specification grade LED lighting systems for architectural lighting. GVA Lighting delivers high quality exterior and interior luminaires for facades, bridges and commercial spaces. Engineering excellence is a top priority with a focus on product reliability and unique design. Optical brilliance and progressive fixture design has helped establish GVA Lighting as a leader in the LED lighting industry with GVA fixtures successfully install in hundreds of commercial, architectural and residential locations. The headquarters are located in Mississauga, Ontario, Canada. Please visit http://www.gvalighting.com
Contact
Contact Stephanie Hecimovich, Marketing GVA Lighting Tel. +1 905 569 6044 Fax: + 1 905 569 9823
E-mail:marketing@gvalighting.com