Lextar set to debut 'CORE' plug-in chip-on-board for lighting designs
Jun 3rd, 2013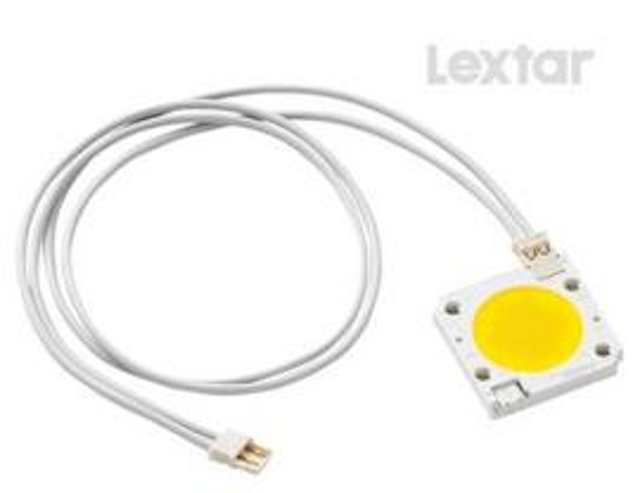 Date Announced: 03 Jun 2013
Lextar Electronics Corp. ("Lextar" or the "company") (TAIEX: 3698) announces its latest plug-in COB "CORE" series which brings its plug-and-play concept to realization. With the mechanically incorporated COB, Core allows series connection that effectively reduces assembly costs. Lextar will formally unveil the new product from June 9 to 12 at the 18th Guangzhou International Lighting Exhibition.
Having foreseen the integration trend in LED lighting component, Lextar presents CORE series that is optical mechanical integrated and delivers high lumen output. Its plug-and-play connector brings additional savings to customers from reduced costs of luminaires, since conventional soldering process was replaced with mechanically designed connector that allows CORE to be connected in series. CORE series is also applicable to omni-directional bulbs when equipped with designated lens for wider beam angle. Besides, thanks to the special substrate, reflectance improves to 97% thus brings excellent lumen output. As high as 1,500 lumen can be delivered within less than 1 cm diameter, giving an unrivaled lumen per area of over 60% advancement.
High efficiency of 125 lm/W enhances its competitiveness for commercial lighting, such as downlights and spot lights. Besides, this plug-in COB "CORE" is especially popular in Europe and Japan, where precision mechanic and luminaire design is highly emphasized. Lextar expects Core series to be mass produced in 2Q this year.
Lextar is also showcasing its whole series of COB product at the exhibition– the "Nimbus" series, covering widely from 4 watt to 75 watt, applicable to bulbs, street lamps and high bays. COB is widely adopted recently thanks to its quality light, no multi shadow, low thermal resistance and good uniformity. It brings benefits to manufacturers for its simplifying luminaire design and reducing assembly costs.
As for surface mount package, apart from the LM-80 accredited 3014 and 5630, Lextar releases high power products of 3030 and 5050. While a single 5050 can reach as high as 5 watt, it is deemed most competitive in high power market, especially suitable for flashlights, candle lamps and MR16. On the other hand, 3030 is applicable to PARs, ceiling lights, and direct-lit panel lights, delivering cost advantages to customers.
The Guangzhou International Lighting Exhibition has been valued significantly as a great opportunity to demonstrate Lextar's lighting component products and technologies, said Allen Huang, president of Lextar. This year's display reveals three core competences including quality, cost and integration. Firstly, light quality comprises requirements upon light shapes, color rendering and uniformity. Such quality should be achieved under effective cost reduction scheme involving chip efficacy from upstream through packaging design, and material optimization. In order to simplify luminaire design for customers, after all, integrated design is necessary with optical optimization, mechanical refinement, electrical scheme and thermo management. Lextar offers competitive technologies and products by utilizing its advantages of vertical integration.
About Lextar Electronics
Lextar Electronics Corp. (TAIEX 3698), founded on May 23, 2008, is a subsidiary of AU Optronics. It specializes in manufacturing high-brightness LED epi wafers, chips and packages, as well as energy-saving and smart lighting products. The range of applications includes LCD backlighting, LED light module, LED light source and luminaires. Lextar officially acquired LightHouse Technology Inc. in March 2010, and Wellypower Optronics in February 2013. The company now houses 4,000 employees and its headquarters is in the Hsinchu Science Park, Taiwan. Its manufacturing plants are located in the Hsinchu Science Park, Hukou Industrial Park and Chunan Science Park in Taiwan, and an assembly plant in Suzhou, China. Lextar's turnover in 2012: USD 339.5 million.
Contact
Fiona Chiu, corporate communications Lextar Electronics Corp. +886-3-5658800 ext 1894
E-mail:fiona.chiu@lextar.com
Web Site:www.lextar.com