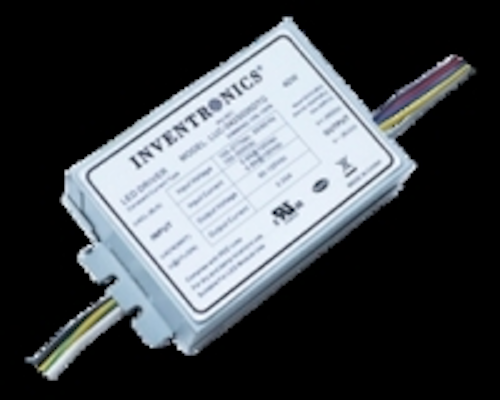 Date Announced: 27 Sep 2013
Hangzhou, China – Inventronics has announced the release of a broad array of 42W constant current drivers for LED lighting applications. The LUC-042SxxxDTG(STG) series include 14 different models with output currents ranging from 350 to 2100mA. Regardless of the output current, each model offers a full load efficiency of 88-90%. These products all operate over a 90-305Vac input range and provide excellent power factor correction (0.96 at 120V and 0.95 at 220V). This new series is approved to UL, CUL, CE, and FCC's standard.
The high efficiency of these drivers enables the products to run cooler, significantly improving reliability and extending product life. The lifetime of these drivers is calculated at about 110,000 hours when operating at 80% load with a case temperature of 60°C.
The combination of wide dimming range (min. 10%) and special mechanical design makes the LUC-042SxxxDTG(STG) Series an ideal choice for down-light projects where the justification is based on visual comfort and easy installation(with the studs on the bottom of the enclosure), especially for the down-light application in North American. In order to insure trouble-free operation in these applications this product family also features robust lightning protection as well as over-voltage, over-temperature, and short-circuit protection.
Production quantities of the LUC-042SxxxDTG(STG) Series are available now. For a full datasheet please check the Inventronics website.
Contact
Inventronics (Hanghzou), Inc. +86-571-5656-5800
E-mail:sales@inventronics-co.com
Web Site:www.inventronics-co.com