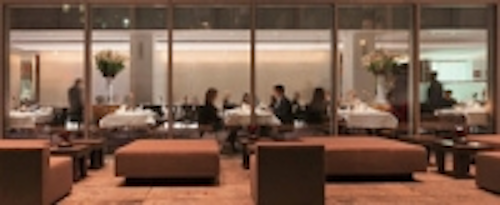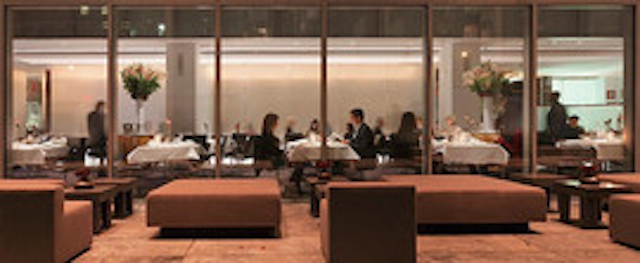 Date Announced: 24 Sep 2013
Fremont, Calif. – Restaurants are not just offering a delicious meal; they are offering an entire experience. Food is the cornerstone of a restaurant, but the ambience is just as important in getting customers into a restaurant. Lighting is the heart of ambience, offering endless opportunities for artistry and design. The perfect restaurant lighting solution, Soraa's full visible spectrum LED lamps have unmatched light output, beautiful beams, unprecedented rendering of colors and whites, full dimmability, long lamp life, and dramatically improved energy efficiency. The Modern at MoMA (New York City), Saison (San Francisco), Hakkasan (San Francisco), and California Pizza Kitchen (across California), among many others, have found this to be true.
"Ambience is determined by numerous factors, but one of the most critical is light—you wouldn't want to go on a romantic date with fluorescent lighting flickering above your head," said Dr. Tom Caulfield, president and COO of Soraa. "The superior color and white rendering of Soraa's lights makes the colors in the food and beverages appear vivid, the tablecloths and napkins appear bright white, making for a rich visual experience. Soraa's full visible spectrum lighting also makes diners look (and feel) better, enhancing the overall dining experience."
Soraa's LED MR16 lamps are the first to match and exceed halogen MR16s in light output, reaching up to 65 Watt halogen equivalent output and color quality. Also, unlike many first generation LEDs, they deliver white point accuracy within 3 step MacAdam ellipses, a standard measure of color consistency. This consistency makes it possible to match lighting schemes across multiple locations. Soraa lamps can be used in many different light layers to create a highly nuanced lighting experience: for beautiful full visible spectrum light in downlights over food and diners, for accent lighting in wall sconces, for reflected indirect lighting, and in decorative fixtures.
"Soraa is the first to deliver an LED MR16 product that meets and surpasses halogen sources in output and color rendering. This is an invaluable tool for designers, and opens up a whole new world of lighting for restaurants," says Derry Berrigan, Lighting designer, educator, and Founder of LightThink University.
A major flaw in other LED lamps on the market today is that they're missing important colors in the spectrum. Food, wood, fabrics, furniture, art, and human beings all have complex and subtle coloration that only appears truly natural and vibrant under full spectrum light. Full spectrum light is also important because interior environments are usually lit by a combination of daylight and man-made light throughout the day, so man-made light closest to daylight avoids color mismatches and provides better color consistency between day and evening lighting conditions. Soraa's lamps render the widest range of colors in the objects that we see. They produce full visible spectrum light, with light quality closest to daylight—smooth, well proportioned and balanced, without ultraviolet (UV) or infrared (IR) radiation.
"At Saison, everything we do is handcrafted with care. We decided to work with Soraa because we needed quality LED lighting that matched our efforts. A good light spectrum makes all the difference," said Joshua Skenes, chef at Saison.
Soraa LED lamps dim smoothly and reliably with most leading dimmer systems and work with a wide variety of the most commonly used fixtures. The company has developed an extensive OEM partner program - Works with Soraa - that tests Soraa lamps with fixtures, dimmers and transformers to ensure full compatibility with leading lighting products.
"The design of the restaurant is as important as the food—we're providing an experience that stimulates all five senses. Everything is conceived as a whole design, and lighting is extremely important. We got started with LEDs originally in California with the need to meet Title 24 requirements. The LEDs at the time gave us problems with dimming, transformer compatibility, and color, especially consistency. We have had no issues with Soraa's performance - we're getting everything we need. The color rendering and consistency are great - it's a win-win all around." Bruno Veninga, director of Design and Development at Hakkasan.
With energy codes increasingly requiring energy efficient lighting, restaurant lighting choices may seem to be narrowing. Fluorescent and first generation LEDs may provide efficiency, but cannot provide the quality of light required for restaurants. Now, with Soraa's LED lamps, restaurants can have the best quality of light available, meet code requirements, and dramatically reduce energy costs as well as maintenance costs.
"The Soraa's LED lamp was the best replacement for California Pizza Kitchen's existing halogen MR16s. Its color rendering, color consistency, superb dimming and long lifetime made it our obvious choice," said Dan Weinreber, IALD, LC, Partner, Kaplan Gehring Mccarroll Archi- tectural Lighting.
For more information on how to create the right atmosphere in your restaurant, visit http://www.soraa.com/applications/restaurant.
About Soraa
Pioneering lamps using second generation LEDs built from pure gallium nitride substrates (GaN on GaN™); Soraa has made ordinary lighting extraordinarily vibrant, brilliant and efficient. Soraa's full spectrum GaN on GaN™ LED lamps have superior color rendering and beam characteristics compared to performance limited lamps using LEDs created from non-native substrates. Founded in 2008, Soraa is located in Fremont California, where it manufactures its GaN on GaN™ LEDs in the company's state-of-the-art facility.
Contact
Andy Beck, Makovsky 202-288-6862
E-mail:abeck@makovsky.com
Web Site:www.soraa.com