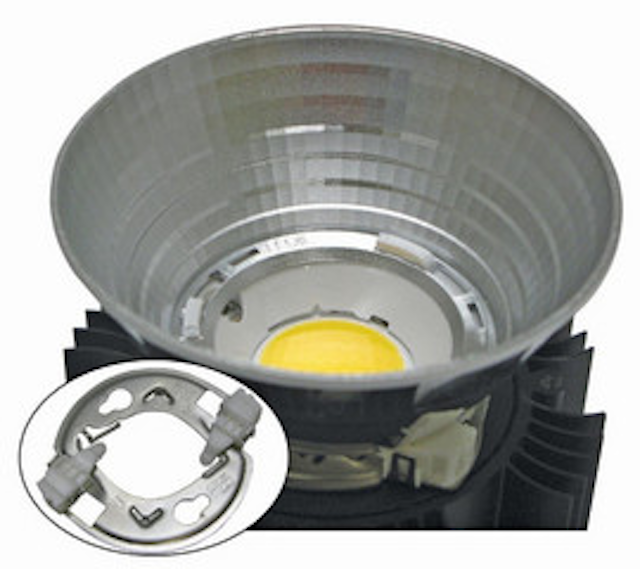 Date Announced: 20 Sep 2013
New adapters mate IDEAL Chip-Lok™ array holders with LEDiL reflectors
SYCAMORE, IL, USA and SALO, FINLAND -- IDEAL INDUSTRIES, INC. and LEDiL Oy announced an engineering collaboration that enables LEDil Mirella™, Angela™, and Lena™ reflectors to mate with IDEAL Chip-Lok™ array holders. As a result, lighting OEMs worldwide can now incorporate COB (Chip On Board) array technology from Bridgelux, Citizen, Cree, Nichia, Philips Lumileds and Sharp into their LED luminaires for higher quality, more cost-efficient production.
Leaders in both their respective fields, IDEAL and LEDiL worked together to develop inexpensive, simple-to-install adapters that seamlessly connect LEDiL reflectors to IDEAL Chip-Lok array holders at extremely high optical efficiency. The adapters are immediately available from IDEAL.
"LEDiL and IDEAL realize the struggle lighting manufacturers face trying to integrate LED technology into their luminaires. Beyond identifying the optimal components needed, OEMs must research whether the components work together systematically," explained Ben Swedberg, business unit manager, Engineered Solutions for IDEAL.
"LEDiL and IDEAL have collaborated so that once an LED COB array is chosen; an OEM can select standard components that are engineered for the best electrical, mechanical, and optical performance of their LED module" continued Tero Makinen, technical product manager at LEDiL.
IDEAL Chip-Lok Array Holders are fabricated from hardened stainless steel to prevent the creep to which plastic holders are prone, assuring great thermal pressure for the life of the luminaire. A flange on its outer edge provides a thermal path to the heat sink that allows the array to run significantly cooler than traditional holders while offering structural strength. The Chip-Lok array holder helps lighting manufacturers build upon this trend by reducing chip temperature, therefore extending array life or allowing the OEM to reduce the size of their heat sink. The size and mounting of all Chip-Lok Holders are consistent with Zhaga parameters, allowing OEMs to standardize components.
Optimized for performance, LEDiL reflectors provide comprehensive support for the widest range of COBs. This can be noted in the spot version of Angela which is optimized to provide a well-defined beam pattern and centre beam candela power (CBCP). The smaller 85 mm diameter ANGELINA displays beam characteristics typical for downlights and general lighting. Its Mirella, Angela, and Lena families represent the finest example of LEDiL's system reflectors philosophy - one design, endless possibilities.
Contact
Ideal Industries 800-324-9571
E-mail: Ideal_Industries@idealindustries.com
Web Site:www.idealindustries.com/products/oem