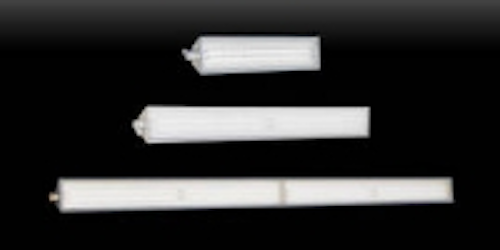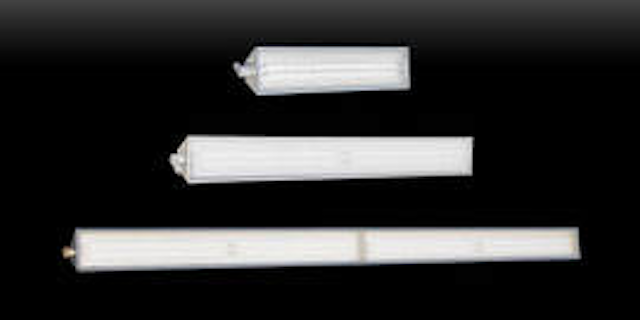 Date Announced: 12 Sep 2013
WLED-48, WLED-96 and WLED-192 outdoor surface-mount floodlights ideal for new-installations or inexpensive retrofits; easily replace higher energy, higher maintenance, shorter-life incandescents, HID (MH, HPS, MV) and quartz halogen.
Each model delivers very low watts of high-CRI white light. Use of LED strip-light sources, and subtle diamond-pattern acrylic lenses, quell typical point-source glare.
New product introduction: Magnaray® WLED-48, WLED-96 and WLED-192 outdoor surface-mount LED floodlights - LED low-energy, low-maintenance savings; with ultra-long lifespan, high color rendition and visual acuity. Models are designed specifically for outdoor area, building facade, landscape, sign and site illumination, and lend themselves to solar lighting applications.
Product design: Larry Leetzow, CIE, IDA, IES; Magnaray International.
Manufacturer: Magnaray® International; a division of World Institute of Lighting and Development Corporation.
Product applications: Magnaray® WLED-48, WLED-96 and WLED-192 are state-of-the-electronic-art, high-performance outdoor LED luminaires. They equally provide very low watts consumed; embody very long, virtually maintenance-free operating lifespans; provide white, aimable, area light coverage and lasting high-lumen maintenance.
Use these brand new Magnaray® luminaires for above-ground landscaping, building façade or sign surfaces; post, pole or tree mountings. WLED-48, WLED-96 and WLED-192 luminaires are ideally suited across a range of applications including security and signage lighting; building/accent, parking area, garage, warehouse, storage-facility and loading-dock area lighting.
Magnaray® WLED-48, WLED-96 and WLED-192 operate in all weather, all climates with high-color-rendition light, adjustable to where it is wanted, with no wasted light. They offer lowest operating cost, least maintenance, longest life of any other luminaire of similar specifications and purposes. The most advanced LED floodlights now on the market, WLED-48, WLED-96 and WLED-192 outperform and outlast most others, owing to their design, use of quality electronic components and superior construction.
Product description: Magnaray® WLED-48, WLED-96 and WLED-192 are space-efficient, compact product designs. Interchangeable top- or bottom-mount adjustable metal brackets yield zero-degree up/down and left/right aiming. Once aimed, units stay in place until purposely moved to a new position.
The key to such high light output is the specifier's and customer's choice of 192 LEDs consuming a mere 54 watts total (WLED-48); 384 LED's using 110 watts total (WLED-96); or an incredible 768 LEDs, using just 205 watts total (WLED-192). LEDs are integrally strip-mounted inside each fixture housing, employ low-glare diamond-acrylic light lenses. LEDs operate on 120 through 277 volts.
Each model uses up to 85% less electricity than energy-wasteful metal halide, high- or low-pressure sodium, mercury vapor, quartz halogen or incandescent lighting sources.
Construction and finishes: Magnaray® WLED-48, WLED-96 and WLED-192 fixtures are made from ultra-sustainable anodized aluminum, with injection-molded aluminum end castings and locking swivel mechanisms.
Lenses are sealed, units are tamper-resistant, yet easily maintained. Light engines and integral LED drivers meet high IP 65 ingress-protection standards. WLED-48, WLED-96 and WLED-192 are CSA International certified for wet-location use, LM-80 certified.
LEDs themselves have 70% or greater maintained lumens after 50,000 hours, are LM70 certified. LED driver life is 100,000 hours (MTBF) at 25°C. WLED-48, WLED-96 and WLED-192 employ high-quality Samsung LEDs with integrated electronic drivers. A standard anodized aluminum finish with optional powder-coat colors, can be specified.
Contact
Magnaray International 941-755-2111
E-mail:sales@magnaray.com
Web Site:www.magnaray.com