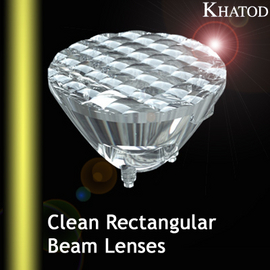 Date Announced: 04 Sep 2013
Clean rectangular beam lens
Optical project, moulding and tooling realization, production:
100% in house, made in Italy
The newest single lenses from Khatod, able to provide a superior clean rectangular beam, are high efficiency lenses designed for use with the most popular existing LED references of the latest generation.
Most lenses for LED applications in current use deliver output beams with circular or elliptical profiles. The light distribution as well as the intensity they produce is mostly suitable for applications in which a small spot is focused by the light beam.
However, a uniform intensity distribution focused to a wider and not circular pattern, often referred to as a "flat-top," is increasingly required in many different uses.
As an example, the inspection lines of material processing departments require a wide rectangular spot of light that has a perfect and uniform light intensity distribution. This will ensure that the entire illuminated area is perfectly processed and controlled.
The rectangular spot is used essentially for illumination and not for focusing a single individual point. For this reason, it is essential that the illumination is uniform, and any point in the rectangular light pattern needs to have the same features of brightness, regardless of where it is located in the illuminated field.
Thanks to Khatod's most advanced optical technology, the PL1672 lens is able to produce a perfect rectangular beam. The toroidal lenslet array creates a rippled surface able to reshape the light into a beam whose size is the one of an A4 paper sheet (~300×200 mm
2
, 12×8 inch
2
) at 1 m distance. The distribution in the light pattern is totally uniform.
These characteristics cover a wide range of applications that can be generally classed as "illumination." They may range from lighting in a museum to desk lamps or inspection lines as explained above.
Khatod Rectangular Beam Lens is currently available in 35.0 mm diameter.
On request, this lens is also available in different diameters, i.e. ∅ 50.0mm and ∅ 46.8m. The optical characteristics will remain the same.
The mounting onto the LED is easy and immediate: 3 pins on the lens bottom allow precise and robust mounting.
General characteristics
- Single lenses providing rectangular beam angle for common LEDs
- Clean rectangular beam lens
- Beam angle for common LEDs
- Invariant performance for a wide range of LEDs
- Lens material: Optical grade PMMA
Features
- Beam size at 1 m ~ A4 paper sheet (~ 300×200 mm
2
, 12×8 inch
2
)
- Excellent uniformity >85%
- Clean spot
- Efficiency >89%
- Easy fixing onto the PCB: 3 pins provided for precise and robust mounting
- Available in 3 different diameters
- PL1672: ∅ = 35.0 mm, H = 21 mm
- PL1675: ∅ = 50.0 mm, H = 21 mm
- PL1738: ∅ = 46.8 mm, H = 21 mm
Typical applications
- Museum lighting
- Desk lamps
- Entertainment lighting
- Architectural lighting
- Stage lighting
- Decorative lighting
- Shop windows, halls & entrances
- Inspection lines
- Flashlights
Khatod's evolution in lensing always delivers cutting-edge solutions that often exceed expectations!
Contact us and test for yourself the perfect performance delivered by these newest optical solutions from Khatod !
About Khatod Optoelectronic:
Khatod products leverage nearly three decades of hands-on experience with the toughest challenges in making lenses in a wide range of applications and environments. Our ability to design and manufacture customized optics for LED lighting is well known. Khatod's expertise is at the disposal of individuals who need to customize their color mixing optic in order to meet specific requirements for the realization of their lighting fixtures.
Follow us on Twitter @ http://twitter.com/#!/KHATODOPTO and
Facebook @ http://www.facebook.com/pages/Khatod-Optoelectronic-srl/263694230338604
View company video @ http://www.youtube.com/watch?v=G1Opls1D0NU
Contact
Khatod Optoelectronic S.r.l. Marketing & Communication – Marina Rossi
E-mail:khatod@khatod.com
Web Site:www.khatod.com