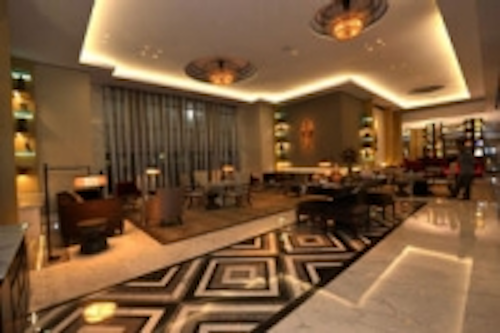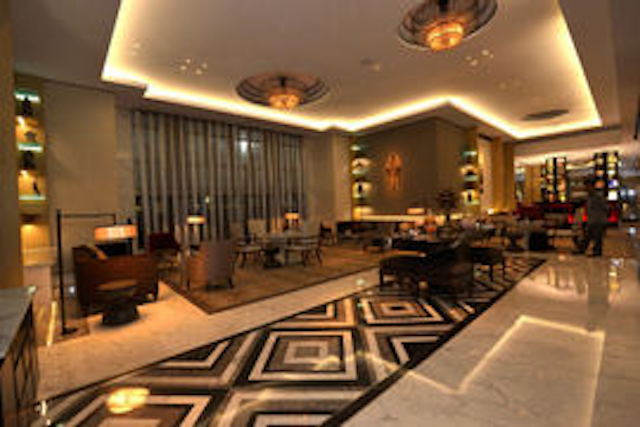 Date Announced: 18 Sep 2013
Keraton at The Plaza is the latest addition to The Luxury Collection® Hotels & Resorts by global hotel chain Starwood Hotels & Resorts Worldwide, Inc. The Luxury Collection is an ensemble of hotels and resorts offering unique, authentic experiences that evoke lasting memories. Keraton at The Plaza is a luxurious hotel located in Jakarta's well-known landmark Plaza Indonesia. Setting its sights on a high-quality and efficient lighting solution, Keraton at The Plaza specified GE Lighting's proven LED system tailored to create an air of elegance at the luxury hotel.
Located in the heart of Jakarta city, the Plaza Indonesia integrated development stands tall with its design-forward architecture and articulated spirit of energy conservation. The development had embarked on a complete upgrade of its lighting systems last year where existing lights were fully replaced with the latest energy-efficient solutions from GE Lighting and their authorized project distributor PT Hilios Power.
"Keraton at The Plaza is a new jewel in the Plaza Indonesia development and the overall lighting provided must do justice to its spectacular settings and ambience of luxury," commented Jacop Makmur, chief property management officer of Keraton at The Plaza. "We were fully confident of the quality of illumination provided by GE Lighting and the team's understanding of the demanding standards required for a high-end accommodation such as ours. The new lights have contributed significantly to display the hotel's elegant spaces to an advantage. In addition to being brighter, GE's LED lamps offer energy-savings, have longer service life, and are further supported by a long five-year warranty period. We are very pleased with GE's total LED hotel lighting solution for Keraton at The Plaza."
Doddy Prijambodo, sales manager of GE Lighting, added: "The entire Plaza Indonesia development is lit by a highly energy-efficient lighting solution provided by GE in line with its energy conservation direction. Extending this same principle to our consideration for Keraton at The Plaza, we provided a comprehensive LED solution that meets the illumination needs of the hotel's respective spaces while concurrently supporting its environmentally conscious brand positioning. This beautiful and elegant hotel is now well-lit by GE's solution that had been highly customized to lend an air of luxurious splendor to both its external and internal environments."
Energy-efficient illumination for exterior and interior environments
For Keraton at The Plaza, the GE team specified a LED solution tailored for luxury hotels, comprising:
- GE provided the hotel interior with LED 6W GU10, LED Linear Wall Wash for lobby and entrance, Hal 45W for precise constant color, LED Tetra miniMAX, T5 Cellique slim and LED Tetra PowerMAX.
- For the hotel contour, GE used the Tetra Power White LED Outdoor Signage and GE Tetra Contour LED Series.
Benefitting from operational and environmental returns
On an operational front, GE's hotel lighting solution will provide Keraton at The Plaza with significant savings in terms of energy usage and maintenance over the long term. The energy savings will translate into a reduced environmental footprint.
About GE Lighting
GE Lighting invents with the vigor of its founder Thomas Edison to develop energy-efficient solutions that change the way people light their world in commercial, industrial, municipal and residential settings. The business employs about 15,000 people in more than 100 countries, and sells products under the Reveal and Energy Smart consumer brands, and Evolve, GTx, Immersion, Infusion, Lumination and Tetra commercial brands, all trademarks of GE. General Electric (NYSE: GE) works on things that matter to build a world that works better.
Contact
Alva Li, Brand & Media Coordinator +86-21-3877-3569
E-mail:alva.li@ge.com
Web Site:www.gelighting.com