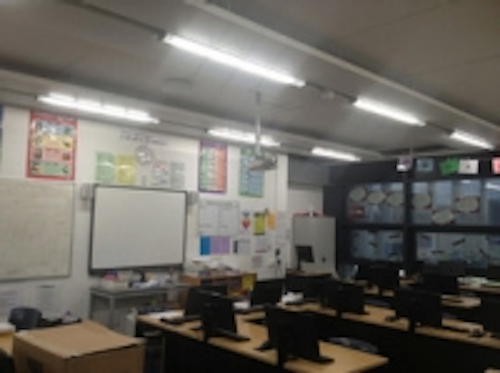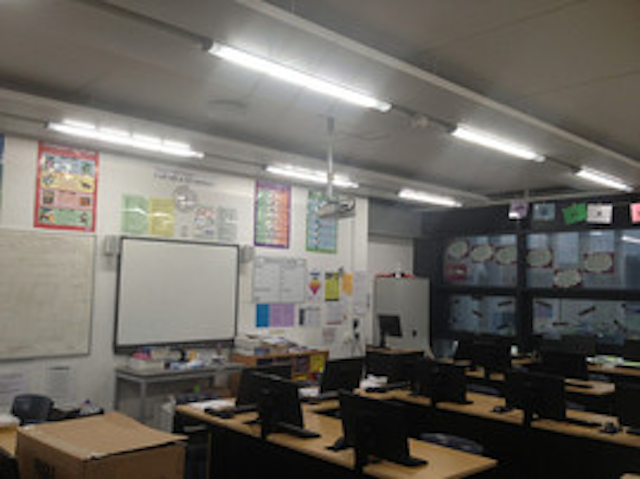 Date Announced: 25 Sep 2013
No capital required - a brighter future for Academy students
Students and staff at the Business Academy Bexley, have a brighter, healthier environment in which to work and learn thanks to the installation of energy saving LED lighting, installed as part of an LED for Schools Programme delivered in partnership by 8point3 LED and Mears Plc.
8point3 LED of Dartford and Mears Plc have installed the latest in LED lighting throughout the school, which will help save more than 60% of the energy consumed by the old traditional lights, cutting electricity bill and the school's carbon footprint.
The savings will be optimised by the use of the latest in lighting controls systems supplied by Lutron, including room occupancy and daylight sensors, meaning that lights will operate only when needed and will automatically dim when natural daylight is present.
Additionally, one of the sixth form media rooms has been equipped with the latest in communications through light. Li-Fi technology as it is known, uses the LED light fittings to broadcast high-speed data signals, improving download speeds and connectivity for students – a first for an education establishment in the UK.
"We are able to offer fully financed, turnkey LED installations meaning that schools do not need any capital investment to benefit from energy saving LED, and unlike other LED installers we survey, design and manufacture bespoke fittings for our clients, meaning we replace the old lights on a like for like basis," said Ashley Bateup, Managing Director of 8point3, which manufactures its fittings at its own sheet metal plant in Belvedere.
"That means that our installation partner, Mears, was able to replace all the lights at the Academy – in excess of 2,000 fixtures – quickly and with minimum disruption to the school operations."
The light emitted by LED is equivalent to noon daylight on a sunny day and the colour temperature is the same as that used in lamps to treat Seasonal Affective Disorder (SAD), providing the areas fitted with a brighter, whiter light which improves the learning environment.
"LED has a guaranteed economic usable life of 50,000 hours, meaning it requires minimal maintenance for many years of operation, presenting further savings for the school," added Ashley.
The installation of LED lighting is the Academy's latest step in its efforts to reduce its energy bill and carbon footprint. It already boasts a 600Kw Solar PV array and a 600Kw biomass boiler, and has recently installed voltage management technology. This is saving in excess of £162,000 and over 764kg of CO2 emissions per year.
"Installing LED lighting was the logical next step in our efforts to develop a greener and healthier learning environment for our students, whilst dramatically reducing our ever-increasing energy costs and CO2 emissions." said Sam Elms, Chief Executive of the Business Academy Bexley.
"We were delighted to find a local company that was able to guide us through the process, and manufacture a bespoke lighting solution. What impressed me most was the quality of the light produced. This is as close to daylight as you can possibly get from an artificial light source.
"It has been proven in a series of scientific studies that LED light of this quality improves concentration by up to 18% and reading speed by 35%, resulting in higher motivation levels and a positive effect on children's learning behaviour.
"What really excites me about this installation is its capability to transmit data at the speed of light at the touch of a button.
"This may sound very futuristic, but our lights are Li-fi ready, which means it's not a matter of 'if', but 'when'. The icing on the cake was not having to find the capital as we have funded the project through cost savings," added Sam. "Disruption to our day-to-day activities during installation has been minimal with much of the installation being undertaken outside of schools hours.
"The feedback from staff and students has been positive. They like the whiter, brighter light that LED emits and the control they have over lighting levels, which effectively match their teaching needs."
For more details on the LED for Schools Programme, visit http://www.8point3led.co.uk/sector/schools
Contact
8point3 +44-01322-629750
E-mail:info@8point3led.co.uk
Web Site:www.8point3led.co.uk