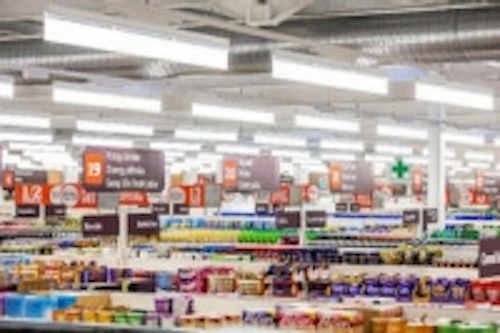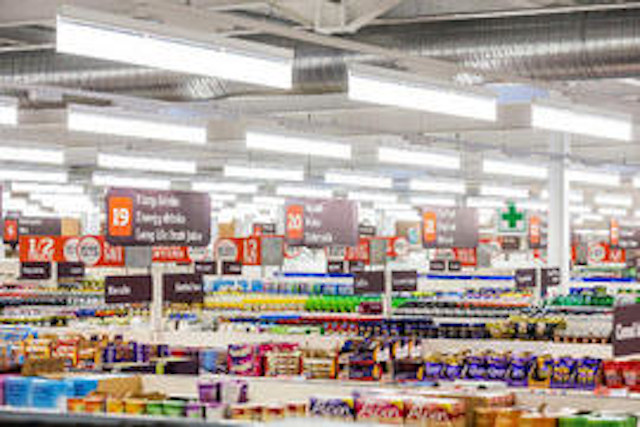 Date Announced: 05 Nov 2013
Sainsbury's highlights a shopping list of benefits with LED lighting solutions
Sainsbury's has partnered with GE Lighting for its first all-LED store. As part of the cooperation, the latest Sainsbury's Leek is the first supermarket installation in the world to utilise GE's LuminationTM Linear Suspended luminaires. The new LED lighting delivers a 59% energy saving that is helping to contribute towards Sainsbury's 20x20 Sustainability Plan, as well as enhance the shopping experience for customers.
The first project of its kind, the new Sainsbury's is a 40,000sq ft store with a wide range of food products and a selection of general merchandise items. The store is targeted to achieve a 59% reduction in energy required for lighting or 180 tonnes CO2eq pa, with overall environmental targets set for the store (2012/13 vs. 2005/06) of a 55% reduction in carbon emissions and 50% reduction in kWh gas and electricity usage.
GE Lighting worked with Sainsbury's to create a scheme that utilises multiple LED lighting solutions to maximise energy savings, lower carbon emissions and extend maintenance cycles, but at the same time enhance the shopping experience for Sainsbury's customers.
As part of the scheme GE's Lumination™ Linear Suspended luminaires were utilised, a first within the supermarket sector. Perfect for aisle or gondola lighting, Lumination™ Linear Suspended is a thin and uniform illuminated lighting panel suspending from the ceiling, powered with Intrinsix™ technology to maximise the performance, control and efficiency of the LEDs within the fixture.
When turned on, it produces a perfectly even glow, and while off, it is nearly transparent with the LEDs hidden inside the frame. The double asymmetric distribution provides glare free vertical and horizontal illuminance directing light evenly onto the shelves and the floor.
Paul Crewe, Sainsbury's Head of Sustainability said:
"We trialled the first installation of the new LED lighting in one of our local convenience stores in Scotland late last year and the initial findings were so positive that we decided to install it in our new Leek supermarket. We are confident that it will deliver an enhanced shopping experience as well as significant energy savings, helping us getting a big step closer to our sustainability commitment. "
As a sustainable solution, GE Infusion Downlights and Track Spots utilising GE Infusion™ LED modules were installed for ambient and accent lighting. In a retail environment the ability to accentuate areas or products of interest is key and this means punching through the ambient light with high impact accent lighting - the GE Infusion LED module provides the impact and versatility to do just that. These high performing, interchangeable, future-proof modular LED modules deliver around 4x the illuminance of typical retail ambient lighting, providing the power to create dramatic effect in the retail stores.
For the outdoor car park and petrol filling station GE's LED Area Lighter was specified. Offering uniform white light, the Area Lighter's modular optical ring design produces superior vertical luminance, efficiently delivering the required amount of light without wasteful or irritating light spill into neighbouring areas.
Mike Barrett, general manager at GE Lighting, concluded: "Sainsbury's is again leading the drive for carbon reduction. Its supermarket in Leek demonstrates how LED can be leveraged to optimise energy and maintenance savings at no cost to the customer experience. Coming from a company with strong culture of quality & testing, GE Lighting's LED range for the retail environment offers long-lasting performance in terms of energy savings and durability – and future-proofed versatility.
"With GE Lighting's LED solutions Sainsbury's achieved the 59% energy reduction target. The contemporary design of the fixtures added to the design ideals of the store and the uniform light improved the interior environment creating a better shopping experience - whilst outdoors, the solution provides enhanced lighting in the car park, with visual perception sharpened."
For further information on GE Lighting's solutions for retail visit www.gelighting.com/eu and for the full Sainsbury's case study visit: http://www.gelighting.com/LightingWeb/emea/projects/sainsburys-led.jsp
Contact
GE Lighting Emma Marsh +44-137-237-1800
E-mail:emmam@cibcommunications.co.uk
Web Site:www.gelighting.com/eu