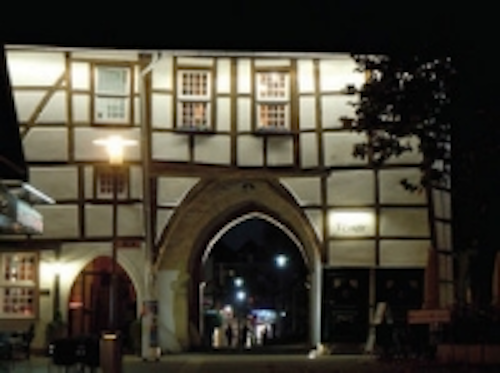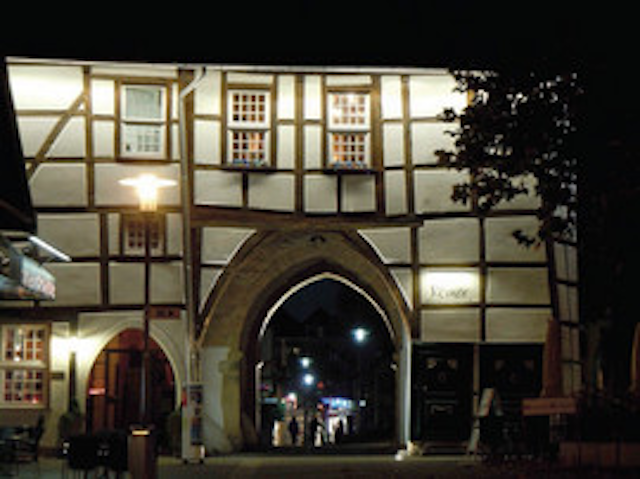 Date Announced: 11 Nov 2013
Insta illuminates the "Römer," a well-known historical gatehouse in Lengerich.
You can find the Römer in the old town of Lengerich where it forms the Eastern entrance to the churchyard. It is the city's landmark. In the second quarter of 2013 the gatehouse was equipped with instalight 4010 façade lightline which illuminates the building in a fascinating way. Particularly the optics "Microline" with the extremely powerful LS variant of the LEDLUX-lamp in warm white colour impressively underlines the architectural features – making the building shine in new splendor.
The building, whose name still remains a mistery, has been used as gate to the churchyard since the 13th century. In the 18th century it also housed flats or was used as prison, as fire brigade depot, classroom or town hall.
Today the Römer is a famous restaurant and pub. One of its rooms is also used for weddings.
Römer Lengerich
Client: Stadt Lengerich
Electrician: Elektro Lemke, Lengerich
Light planning: Rhein Licht beratende Ingenieure GBR, Ralf Schoofs, Düsseldorf
Lighting technology: Insta Elektro GmbH, Lightment, Lüdenscheid
Product: instalight IL4010 Microlinie with LEDLUX LS wwh
Contact
Insta Elektro GmbH, Lightment-Marketing, Hans-Joachim Dietrich +49-2351-936-1700
E-mail:H.Dietrich@insta.de
Web Site:lightment.insta.de