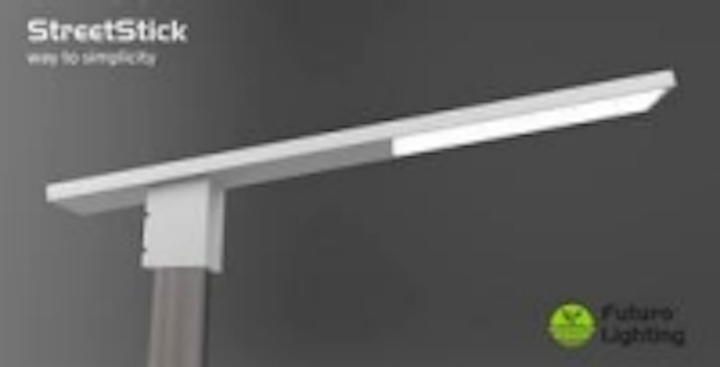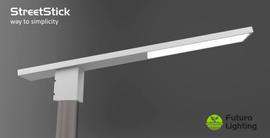 Date Announced: 07 Nov 2013
StreetStick - the name describes the shape of the fixture. It is characterized by simple minimalistic design. Fixture is formed in a robust piece of aluminum stick. It has implemented two 20W LED modules equipped by 12x latest OSRAM OSLON Square LEDs focused by street optics from LEDIL. This fixture is the result of cooperation of three local Slovak companies, FuturoLighting, PALCO IT and GAMAaluminium.
Fixture body has dimensions of only 800 x 100 x 20 mm and weight of 6 kg. It emits over 5000 lm with CCT of 5000 K and CRI above 70 (available other CCTs). The whole fixture is made of aluminum, which is naturally anodized and offers robust environmental resistance. This fixture is designed to be used for ME4 and ME5 class streets, and many other applications including, walking, bicycle roads, parks and many others. It offers high efficiency and long life. StreetStick requires NO maintenance other than regular dusting/cleaning during whole product life.
To keep low costs and high quality product without affecting design, user can select from various fixed joints ranging from 0° to 15° (in 5°decrements, measured to vertical axis). Due to used installation principle multipole installation requires only single SMPS according to number of fixtures, thus decreasing installation costs for such multi pole systems (2, 3 or 4 fixtures on single pole) extending its usage for higher road classes.
Fixture can be additionally equipped with optional modules, like, two phase dimming control, midnight detection for energy saving, RF grid for diagnostic and fixtures control, and others according to customer needs.
About FuturoLighting
FuturoLighting is a privately owned company based in Piestany, Slovakia whose focus is on LED lighting solutions for all applications. We are certified partner of OSRAM in LED Light for you network and we are supporting our customers with developing and production of customized LED lighting solutions for demanding environments which also require high energy efficiency, long lifetime, and easy maintenance. For more information about FuturoLighting, its products and customizable solutions please visit our web page www.futurolighting.eu or follow us on Facebook, Twitter, and LinkedIn, where you can become our fan and friend.
Contact
FuturoLighting +421-948-388-317
E-mail:info@fulit.eu
Web Site:www.futurolighting.eu