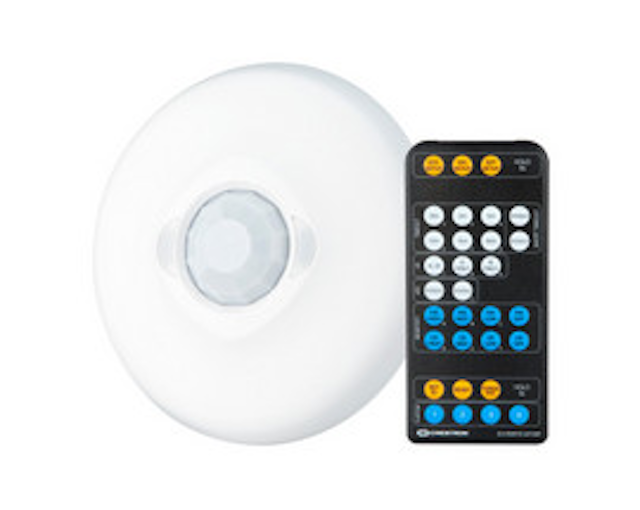 Date Announced: 06 Nov 2013
Smart automation that saves energy
Introducing GLS-OIR-C-CN for Cresnet®, our latest innovation for energy-saving occupancy sensors.
Rockleigh, NJ - Crestron has announced the release of its new GLS-OIR-C-CN occupancy sensors, ideal for conference rooms, hallways, and private offices. The GLS-OIR-C-CN is a highly accurate occupancy sensor designed to reduce energy costs and enhance the automation capabilities of Crestron lighting and environmental systems.
Accurate technology
Powered by Passive Infrared (PIR) technology, GLS-OIR-C-CN sensors are not susceptible to vibrations in the environment, reducing false occupancy activations due to nearby foot traffic, HVAC systems, or other local activity.
Cost-effective
These new sensors provide the most cost-effective solution for customers to realize the energy-saving benefits of lighting and environmental automation.
Sleek design
At less than 1-inch high when installed, the GLS-OIR-C-CN is one of the thinnest ceiling-mount sensors on the market. It effortlessly blends into any ceiling helping you deliver enhanced automation systems that keep a low-profile.
Point and shoot configuration
Thanks to the available IR Remote, there's no need for a laptop or programmer to setup and adjust each sensor. Just aim the remote at the GLS-OIR-C-CN to adjust sensitivity for vacancy and occupancy states, timeout, and Cresnet ID.
Advanced occupancy sensing
Our advanced GLS-ODT-C-CN Occupancy Sensor with dual technology is perfect for a wide range of applications, including fine motion detection in large spaces.
Crestron occupancy sensors bring a new layer of intelligent automation to your customers and improve the energy-saving capabilities of any complete energy management solution from Crestron.
Contact
Joyce Essig-Bachtler, Lutron public relations manager +1-201-767-3400 x10439
E-mail:jessig@crestron.com
Web Site:www.crestron.com