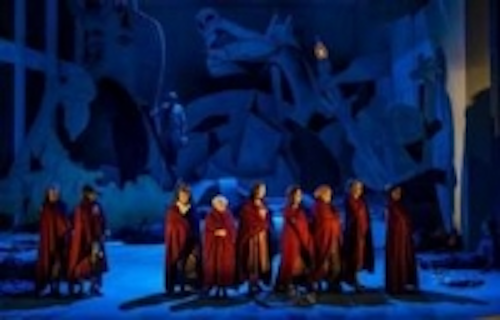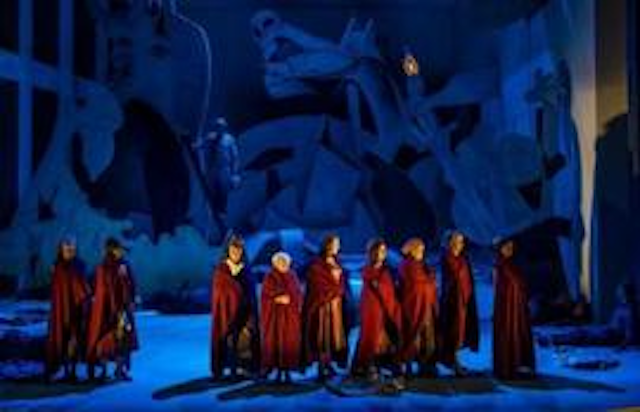 Date Announced: 12 Nov 2013
Chroma-Q Color Force LEDs Deliver Premium Lighting Performance for Wexford Festival Opera 2013
Chroma-Q® Color Force 72™ LED battens have delivered premium lighting performance for productions during this year's renowned Wexford Festival Opera in South-Eastern Ireland.
The event is one of the most innovative and fastest growing of the world's major arts festivals. A diverse line-up includes full-scale opera productions plus daytime performances of shorter works of music theatre, concerts, recitals, talks and stand-up comedy from new creative talent.
The Festival's Chief Electrician, Didier Barreau and Lighting Designer, Paul Keogan specified the Color Force fixtures for use in the Festival's main stage operas.
"I'd used the Chroma-Q Color Force 48™ fixtures at another opera festival earlier this year and was really impressed by the quality of their output and colour mixing," says Paul.
"The Color Force units are the only sources we use to light rear projection cloths as part of the scenery for two of the operas. For our third opera they give me a broad brush stroke side light. Aesthetically they are working very well – I have the colours, a smooth dimming curve and plenty of output."
Didier continues: "I have been Chief Electrician for the past five years. Having three operas to look after with an everyday changeover, it's very important to have the best units on the market. The Color Force 72s are the best I've found to fit the space efficiently. They're very fast to move during changeover and also very small for what we get out of them."
"They have been my top choice for many events. Designers who have followed my choice agree that the units offer an amazing output, and the colour mix is very smooth. The fixtures really impress with their choice of colours and the dimming curve is just perfect!"
Every aspect of the Color Force range, both inside and out, is designed to deliver the highest performance levels from a lighting instrument, for today's most demanding applications.
Firstly, the LED selection, combined with Chroma-Q's advanced ColorSure™ technologies, provide meticulous colour consistency between fixtures in any situation. In addition, through batch control and careful thermal management, fixtures deliver the same colour results during any period of operation.
Secondly, the fixtures' custom optical design provides a smooth, even light output with outstanding colour blend across the spectrum - for equally impressive bold saturates, subtle pastels and a complete range of whites from 1,000K to 10,000K.
Thirdly, theatrical grade dimming emulates the extremely smooth dimming curve of tungsten fixtures, from completely off to completely on, and with no visible stepping or jerkyness during the dimming.
As a result, the Color Force range has been adopted by leading users in opera, theatre, film & TV, venues, touring, events, retail, houses of worship, and others.
Paul's been so impressed with the Color Force 72s during the Festival that he's already requested to use them in his next design for a theatre production in Dublin.
To arrange a Chroma-Q Color Force demo, call +44 (0)1494 446000, or for more information, visit www.chroma-q.com/performance.
Photo Credits
All photos are Copyright Clive Barda.
Wexford Festival Opera 2013 productions of: Il Cappello di paglia di Firenze by Rota (filename includes: cappello). La Navarraise by Massenet (filename includes: navarraise).
Chroma-Q's entertainment and architectural lighting products have been setting new standards of performance for a huge range of leading lighting designers, specifiers, rental and production companies, venues, shows and events worldwide. The range includes award-winning LED lighting and visual effects products, control & distribution and lighting accessories.
Chroma-Q and all associated product names are recognised trademarks, for more information visit www.chroma-q.com/trademarks. The rights and ownership of all trademarks are recognised. The information contained herein is correct at the time of printing, we reserve the right to change the specification without notice. E&OE.
Contact
Chroma-Q +44-(0)1494-446000
Web Site:www.chroma-q.com/performance