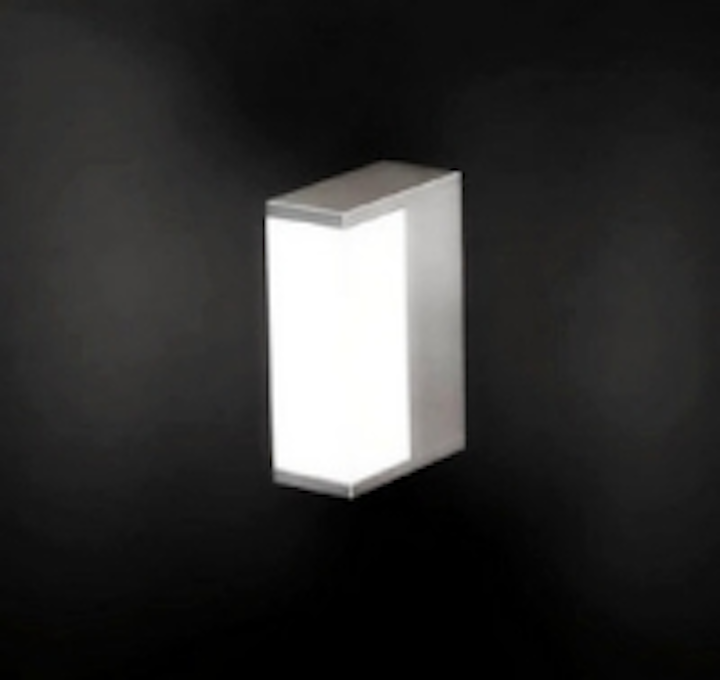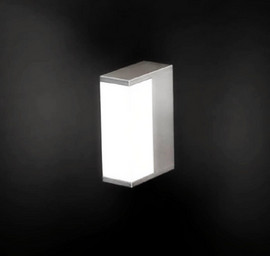 Date Announced: 18 Nov 2013
New "allège2" LED Sconce from a-light Provides Energy Saving High Light Output in a 3-D Lensed Design
New product introduction: The new allège2 Series — omni-directional distribution LED or T5, diffuse lensed vertical wall sconce luminaires.
Design: Ron Lancial and the a-light In-House Lighting Design and Engineering Team.
Manufacturer: a-light — an AmerillumBrands company, founded 2001. U.S. manufacturer of energy-saving LED and linear fluorescent lighting exclusively.
Product applications: allège2 Series provides elegant, contemporary architectural-design along with uniform interior ambient illumination. It replaces energy-inefficient interior HID (High-Intensity Discharge); T12 fluorescent, incandescent; and halogen light fixtures, with much more energy-conserving, high output, low wattage LEDs. Fixtures may be specified with single high-performance, long-life, low-mercury T5 or T8 linear fluorescent lamps. LED versions are available in a 9-5/8" mini-sconce, 2-ft, 3-ft or 4-ft lengths. Fluorescent versions are available in 2- or 4-ft lengths.
allège2 Series is particularly economical to operate and maintain. It is built to last and is cost-effective, short and long term. It is well-suited for use in a variety of applications including schools and colleges; clinics, hospitals, laboratories and physician offices; libraries, museums and galleries; airports and other public spaces; offices, corridors, reception areas; hotels, retail, showrooms, entertainment and themed venues of all kinds.
Product description: allège2 Series is characterized by a rigid, low-scale architectural, linear box-like design. Each luminaire contains an optical platform engineered for maximum light output and energy conservation. A precision-formed reflector design, unique light-spreading diffusers, and optimal diode spacing minimize the typical "dot-dot-dot" appearance of LEDs while maximizing even light distribution.
A classical low-glare direct luminaire, its wide "omni-distribution" comes from a three-sided 270-degree lens shape. Shielding choices are a WISP™ opal-acrylic lens that emits a soft illumination, maintaining very high light output while obfuscating the lamp image for T5 or T8 fluorescent. WISP™ with HTLO™ insert is recommended for LED, specifically designed to seamlessly blend diode patterns into a smooth even distribution.
LED units are produced with high-performance Nichia® LEDs rated at 60,000 hours. Choose 3000ºK, 3500ºK or 4000ºK color temperatures. Lumen outputs at the circuit board offer three choices: Low output of approximately 120 lumens/foot, equaling a mere 2 watts/foot. Standard output of approximately 600 lumens/foot, equaling a mere 5 watts/foot. High output of approximately 1200 lumens/foot, equaling 10 watts/foot. The "mini sconce", due to its smaller size, retains constant voltage driver at approximately 90 lumens and 3 watts for low output, 420 lumens and 7 watts for standard output and 840 lumens and 13 watts for high output.
LED circuit boards, housings and lenses are made in America, and are especially designed and manufactured by a-light for superior performance. LED boards are replaceable, built in foot-long increments. The LED driver is a 12V DC system, also rated at 60,000 hours, 120V to 277V universal voltage. All LED drivers over 1ft length fixtures are now Constant Current to reduce power consumption, have extreme low-temperature performance to -40°C with a 90°C case rating, is UL/cUL listed, Class 2. A dimming-module option is available. LED drivers and boards each have 5-year warranties.
Construction & finishes: Ultra-sturdy allège2 Series fixture housings are constructed of 60% recycled aluminum extrusions, finished by refined milled aluminum endcaps, and are a mere 4-1/2-inches high x 2-1/4-inches wide. Units are 100% recyclable. They come post powder-coated in a choice of metallic alightanium (a warm, matte titanium appearance), satin black or satin white.
Learn more about allège2 Series and other a-light energy-conserving products by visiting: www.alights.com. a-light is located in its own architect-designed plant and office at 3728 Maritime Way, Oceanside, California 92056 and is a division of AmerillumBrands.
Contact
a-light, a division of AmerillumBrands +1-760-727-7675
E-mail:mlipiec@amerillumbrands.com
Web Site:www.alights.com