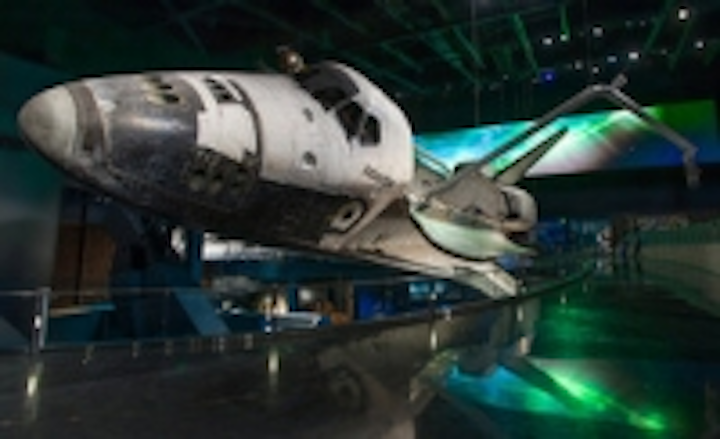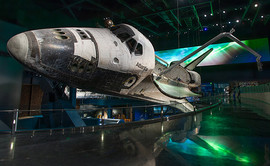 Date Announced: 26 Nov 2013
Montreal, QC and Boston, MA – Using an LED lighting solution from Lumenpulse, the Kennedy Space Center has become the first museum to display a space shuttle in full flight mode. Suspending the space shuttle Atlantis 30 feet in the air, the museum's new exhibit uses advanced lighting techniques to reveal the orbiter as it would appear in space.
Designed by lighting design firm Fisher Marantz Stone, the museum's lighting scheme uses over 250 Lumenpulse fixtures, which can be varied in color temperature and hue to recreate the unusual lighting conditions in outer space.
"Form factor and flexibility were essential to this project, and the Lumenpulse fixtures were a perfect fit, particularly since they offered tighter distribution options in high-wattage, high-lumen packages," said Paula Martinez-Nobles, Project Manager at Fisher Marantz Stone.
NASA is already well acquainted with LED technology: tunable, dynamic white technology is used to regulate the sleeping patterns of astronauts. In fact, the Kennedy Space Center had pushed for the use of LED when it came time to illuminate the shuttle.
"The Space Center wanted to ensure reliability and simplify maintenance issues – they didn't want to crawl above the orbiter to change light bulbs every few months – so using LED fixtures was a requirement," she said.
For Francois-Xavier Souvay, Lumenpulse President and CEO, the exhibit not only illustrates the power of current LED technology, it also gives the space shuttle Atlantis the tribute it deserves.
"Anyone interested in NASA's space shuttle program, or the orbiter itself, would have been disappointed to see it displayed in a traditional museum setting. This modern, dynamic lighting design brings visitors nose to nose with Atlantis, as it would appear in space. It's very dramatic, and very appropriate for such an important piece of space history. We're honored to have been a part of this exciting exhibit," he said.
The space shuttle Atlantis is the last orbiter to have been flown in space. It is the centerpiece of the new 90,000 square feet exhibit, which is dedicated to NASA's Space Shuttle Program.
For more information on the Space Shuttle Atlantis exhibit, or on Lumenpulse's LED products, please visit www.lumenpulse.com.
About Lumenpulse Inc.
Founded in 2006, Lumenpulse develops and manufactures high-performance, sustainable specification-grade LED-based fixtures and solutions for commercial, institutional and urban environments. Lumenpulse is a leader in the LED lighting market and has earned many awards for its indoor and outdoor applications, including several Product Innovation Awards (PIA), two Next Generation Luminaires Design awards, a Red Dot Design Award and a Lightfair Innovation Award. It was also recognized as one of Profit Hot 50's Top New Growth Companies. Lumenpulse has offices worldwide with corporate headquarters in Montreal, Canada, US headquarters and Global Technology Development Center in Boston, Massachusetts, and EMEA headquarters in London, UK.
Contact
Lumenpulse Inc. Sal Ciolfi Public Relations Manager 1 (514) 937-3003 ext. 337
E-mail:sciolfi@lumenpulse.com
Web Site:www.lumenpulse.com