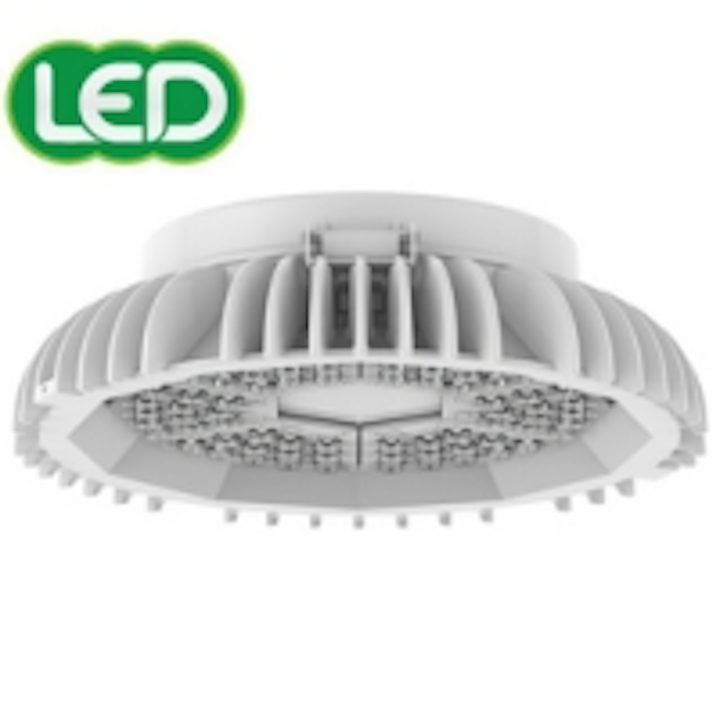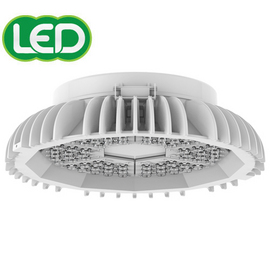 Date Announced: 16 Jan 2013
New LED Highbay delivers efficacy of up to 100 LPW.
GREENVILLE, S.C. – Hubbell Industrial Lighting announces the release of the HBL Series LED Highbay, a premium LED high bay fixture that offers a customizable industrial lighting solution in an eco-smart, cost effective package. Delivering 5000◦ K light, the HBL was awarded an IES Progress Report Award for being the LED Highbay with the highest efficacy of up to 100 lumens per watt. The HBL Series LED Highbay is an ideal solution to efficiently light any large interior space such as heavy industrial settings, warehouses, gyms, churches and shopping malls.
The HBL Series housing is made from rugged cast aluminum and features a unique radial fin design that allows for optimal thermal efficiency, heat dissipation and operation in -40◦C to 45◦C ambient environments. This thermally efficient design features cool-running, long-life LEDs providing 100,000 hours of operation at L70. Six individual LED light engines provide fail-safe redundancy and LED count ranges from 72 to 60 to 48 driven at 700mA. The custom engineered LED optics deliver evenly distributed light in aisle, narrow or wide distributions for a choice of aisle, narrow and wide distributions available in 2,700 through 5,000K with standard 0-10V dimming.
Designed for tough industrial environments, the HBL Series LED Highbay was recently selected as a Plant Engineering Product of the Year finalist. Ideal for new construction and retrofit installations, the HBL Series is easy to install with a "no tool" hinge and latch mounting system and features a one-for-one replacement for HID retrofit installations. Measuring a compact 18"D x 6"H with a weight of 29 lbs., the HBL Series can be installed in five mounting configurations and provides a versatile, easy to maintain solution with field replaceable light engines.
The HBL Series is available in a choice of white, black and gray finishes with additional options including a bottom wire guard, occupancy sensor, and glass or acrylic lens. The HBL Series also offers wireless control system integration with exclusive wiHUBB™ control system allowing users to wirelessly group, zone, and dim equipped fixtures as part of a larger peer-to-peer mesh network system.
HBL Series LED Highbay Features:
•High performance LED design delivering up to 100 lumens per watt at 68CRI
•Long-life, 100,000 hours at L70 lumen maintenance
•2,700 through 5,000°K color temperatures
•Specialized thermal management allows from -40˚C to 45˚C ambient temperature ratings
•LED count ranges from 72 to 60 to 48 and all three LED counts are driven at 700 mA
•Individually engineered LED optics provide precise optimally controlled and evenly distributed light distribution: Aisle, Narrow, or Wide distribution patterns
•9 unique fixture versions with 5 available mounting options
•Unique radial design with fins of cast aluminum housing acts as heat sink; downward sloping fins minimize debris buildup
•Excellent thermal management with sealed optic for long life and durability
•Modular light engine for future upgrade or replacement
•Standard 0-10V dimmable drivers
•Surge protection is included standard
•IP56
•DLC Approved
•CSA listed and suitable for wet locations (UL 1598)
•Available with exclusive wiHUBB™ technology preinstalled
•Compatible with DualLite® LiteGear® emergency egress lighting
•Five year warranty
For additional information on Hubbell Industrial Lighting and the HBL Series LED Highbay, visit www.hubbellindustrial.com.
About Hubbell Lighting:
Hubbell Lighting is one of the largest lighting fixture manufacturers in North America. The company provides a full range of indoor and outdoor lighting products serving the commercial, industrial, institutional, and residential markets. Hubbell Lighting brands include Alera Lighting, Architectural Area Lighting, Beacon Products, Columbia Lighting, Compass Products, Devine Lighting, Dual-Lite, HomeStyle Lighting, Hubbell Building Automation, Hubbell Industrial Lighting, Hubbell Outdoor Lighting, Kim Lighting, Kurt Versen, Prescolite, Progress Lighting, Security Lighting, Spaulding Lighting, Sportsliter Solutions, Sterner Lighting Systems, Thomasville Lighting, and Whiteway.
Contact

E-mail:Press@cfwevents.com
Web Site:www.hubbellindustrial.com