Yole Développement announces Sapphire Substrates 2013 report
Jan 15th, 2013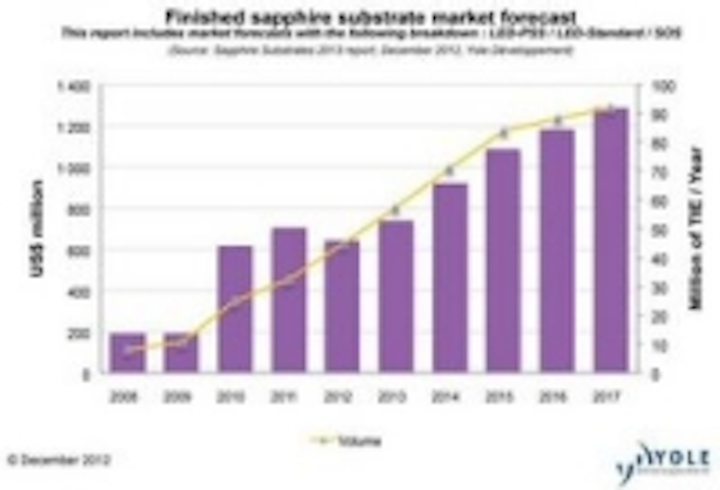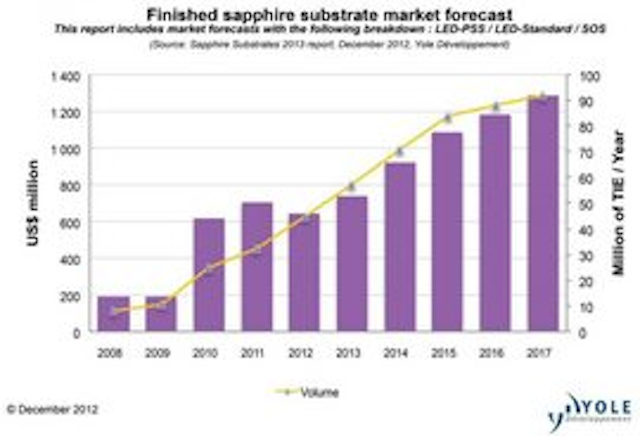 Date Announced: 15 Jan 2013
-- "Excess capacity to trigger massive consolidation and attrition:
Will cell phone display covers come to the rescue?," wonders Yole Développement.
Lyon, France –- Yole Développement announces its report "Sapphire Substrates 2013". This report provides a detailed analysis of the sapphire industry, including revenue, volume and price trends for all major substrate applications. It also includes an extensive list of manufacturers with current and planned capacity, and an analysis of established and emerging manufacturing technologies.
The drivers and dynamics of the LED and SoS markets are analyzed, and a preliminary view and plausible scenario are provided on emerging non-substrate applications in cell phones.
Significant overcapacity and low LED substrate prices will affect the profitability and viability of many sapphire players in 2013 and beyond, but emerging applications could transform the industry.
The sapphire material shortage experienced from 2010 to early 2011 created a window of opportunity for new entrants. In the last two years, more than 80 companies announced their intention to enter the industry, bringing the potential number of players to 130+ -- with more than 50 of these potential new entrants located in China. Coupled with slow demand from LED makers in 2012, this has created a very challenging environment with cores and wafers often selling at prices at or below manufacturing cost.
Revenues increased 15% in 2011 but are expected to drop 9% in 2012 due to lower average selling prices, despite volume increase and a favorable product mix with the percentage of PSS wafers increasing dramatically.
These difficult market conditions will trigger an industry rationalization through consolidation and attrition that should take place in 2013 and 2014; activities that the Yole Finance business unit is monitoring closely. In the long-term, as the environment remains extremely competitive, Yole Développement's team expects the industry to evolve toward a more vertically integrated model in order to limit margin stacking. A handful of tier-1 worldwide leaders should emerge from this rationalization, along with smaller tier-2 regional players.
Yole Développement's report presents historical and future price trends for material and finished wafers, as well as a detailed supply/demand analysis. Volume forecasts are presented for material, standard and PSS wafers, along with a revenue forecast for finished wafers.
LED-on-Si: a looming threat for sapphire makers
"All major LED makers are currently exploring opportunities for transitioning from a sapphire-based technology platform to a silicon-based one ("LED-on-Si"); this interest is driven by a potential cost savings of up to 60% at the die level", explains Eric Virey, Senior analyst, LED, Yole Développement. But while significant progress has been made, the technology still faces hurdles, and it remains to be seen whether the leading proponents of LED-on-Si, like Bridgelux/Toshiba and Lattice Power, will be able to tackle all of the remaining challenges and transition to mass manufacturing in a cost-effective manner. For most other LED companies, LED-on-Si is often an important development axis, but not a necessary milestone on their manufacturing roadmap. The jury is still out, but in the meantime, investments in the large-diameter sapphire platform are often postponed pending the outcome of LED-on-Si.
In this report, Yole Développement's team presents a in-depth analysis of the requisite conditions for the success of LED-on-Si, and reveals how GaN could capture some niche markets thanks to higher performance and competitive system-level cost of ownership.
SoS to provide welcome upsides, but could cell phone windows be the next killer application?
The Silicon on Sapphire (SoS) application could represent a nice upside for the happy few that enter the supply chain. Demand more than doubled in 2012 and could do the same in 2013. Leading SoS company Peregrine has developed a compelling Antenna Switch technology that has already achieved vast success in smart phones.
The company benefits from strong macro trends in the cell phone market and is developing new components that could further increase not only SoS content per phone, but also wafer demand. Opportunities for these new components (Power Amplifiers and tunable capacitors), as well as for competing technologies developed by companies like Paratek (now part of cell phone maker RIM), may bring new volume applications to sapphire wafer manufacturers.
The significant capability and capacity build-up and dramatic cost reduction achieved by the sapphire industry in the last three years could open the door for a whole new range of applications. Amongst these, the use of sapphire for small display covers has the potential to be a game-changer and raise the sapphire industry to a completely new level. Despite significant hurdles in terms of cost and manufacturing technologies, all major cell phone OEMs are currently investigating this option. While mass adoption remains uncertain, it is not completely unrealistic -- and due to the current dire situation of their LED-related business, most sapphire makers are eager to help it materialize.
This report analyzes the most recent trends and potential SoS-related upsides, and provides a revenue forecast. Also, the pros and cons of using sapphire in cell phone cover applications are discussed, and various scenarios are presented to illustrate the potential impact in terms of global sapphire demand.
About Sapphire Substrates 2013 report:
Author: Eric Virey holds a PhD in Optoelectronics from the National Polytechnic Institute of Grenoble. From 1997 to 2009 he held various R&D, engineering, manufacturing and marketing positions with Saint-Gobain. In his most recent position prior to joining Yole Développement, he was Market Manager at Saint-Gobain Crystals in charge of sapphire substrates and materials for optical telecoms. Since 2010, Eric has authored multiple LED technology and material-related reports.
Catalogue price: Euros 3,990.00 (single user license) - Publication date: April 2012. For special offers and the price in dollars, please contact David Jourdan (jourdan@yole.fr or +33 472 83 01 90).
Companies cited in the report:
Sapphire makers: Alpha Crystal Technology, Aurora Sapphire, BIEMT, Changzhi Hongyua, Crystaland, Technology Crystal, Crystal Applied Technology, DJ laser, DK Astec, ECEC, GCL/GAPSS , GTAT, Haotian Optoelectronics Technology, Heifei Crystalbridge, Hyperion, Iljin Display, Jeshine, Jiaozuo City Crystal Photoelectric, KCC, Kyocera, Monocrystal, Namiki, NCB Network, NGC China Transmission, OCI, Procrystal, Rubicon, Saifei, Saint-Gobain, San Chih Semiconductor, Sapphire Technology, SAS, Shinkosha, Silian, SSLM, LG-Siltron LG , Sumitomo Metal Mining, Tera Xtal, Trinity Material, Union Light Technology, USI Opto, Wafer Works and others.
Equipment Makers: Apeks, Arc energy, Crystal Tech, Dai Ichi Giken, Ezan, Fukuda Lab, Greenmore, GTAT, Juropol, Meyer Burger, OK Sapphire, Omega, Pryroda Engineering, Strasbaugh, Tech Sapphire, Thermal Technology, United Crystal and others.
About Yole Développement
Beginning in 1998 with Yole Développement, we have grown to become a group of companies providing market research, technology analysis, strategy consulting, media in addition to finance services. With a solid focus on emerging applications using silicon and/or micro manufacturing, Yole Développement group has expanded to include more than 50 associates worldwide covering MEMS, MedTech, Advanced Packaging, Compound Semiconductors, Power Electronics, LED, and Photovoltaics. The group supports companies, investors and R&D organizations worldwide to help them understand markets and follow technology trends to develop their business.
Contact
For more information about: • Services : Jean-Christophe Eloy • Reports: David Jourdan (jourdan@yole.fr) • Media : Sandrine Leroy
E-mail:leroy@yole.fr
Web Site:www.yole.fr