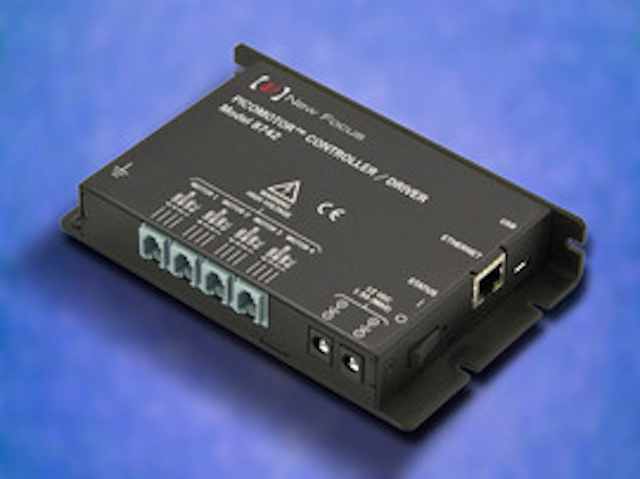 Date Announced: 04 Jan 2013
New Focus™, a Newport Corporation Brand, announces the new Model 8742 Intelligent Open-Loop Picomotor controller/driver module with 4 channels. The compact, single-box design with an integrated controller and driver provides a low-cost solution for driving New Focus' open-loop Picomotor products. The new module can be computer controlled with plug-and-play ease via the USB 2.0 and the 10/100 Ethernet interfaces using Newport's Motion Control Language (NMCL) command set.
Advanced features for Model 8742 include the innovative Picomotor auto-detection technology, an embedded dynamic HTTP server, and connectivity that is supported by LabVIEWTM and Windows™ DLL. The intuitive graphical user interface (GUI) Windows application includes a device auto-discovery component. The intelligent open-loop Picomotor controller/driver is being offered as a stand-alone unit or as a 4-axis kit to include all the necessary cables and accessories. This kit is also bundled with two ClearEdge Picomotor mounts to provide a quick and easy start.
Each controller/driver can control one of four 4-pin RJ-22 single output ports for use with any single-channel Picomotor actuator at any given time. Other features include a multi-axis adapter that can be used to connect the 4-pin RJ-22 output ports on the drivers to New Focus Picomotor products with 6-pin RJ-11 connectors, making this instrument extremely flexible. Ideal for a wide variety of scientific applications, Newport's 4-channel controller/driver is CE and ROHS compliant and is available now for immediate shipping.
For more information about Model 8742 Intelligent Open-Loop Picomotor controller/driver, please go to: www.newport.com/8742.
Contact
New Focus 3635 Peterson Way Santa Clara, CA 95054 Tel 408-980-4300
E-mail:pete.neely@newport.com
Web Site:www.newport.com/newfocus