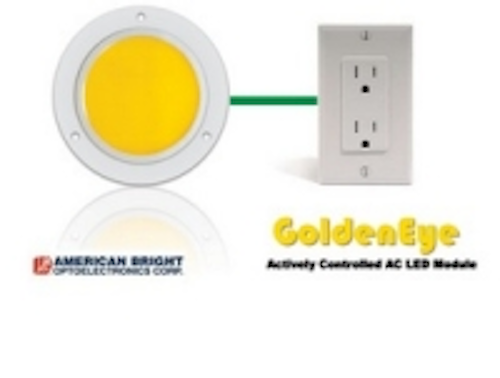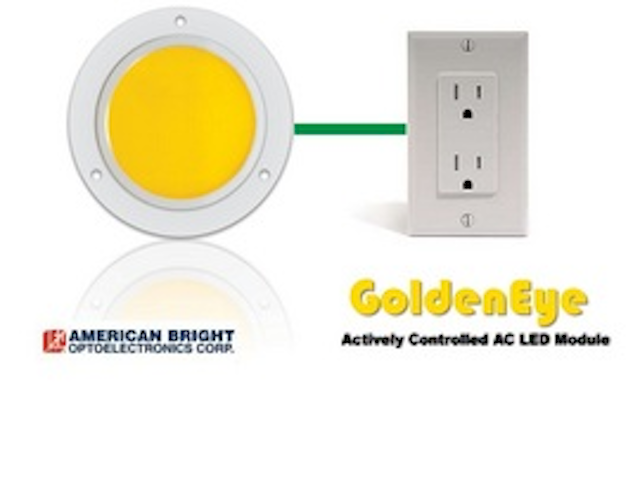 Date Announced: 02 Jan 2013
American Bright has introduced an industry leading actively-controlled AC LED Light Engine that reduces systems cost while providing industry leading output and light quality.
Chino, Ca. – American Bright Optoelectronics Corp. today announced the introduction of a new generation of AC LEDs capable of producing 80lm/W without the need for costly external AC to DC conversion. The new series named GoldenEye implements American Bright's innovative SimpleDrive technology that eliminates the need for capacitors, resistors and chokes and allows users to connect the module directly to 120VAC line voltages. The diminutive package, barely larger than a US Quarter, can be configured from 1.2W to 12W while maintaining a high efficacy of 80 lumens per watt (lm/W). The retrofitting traditional light fixtures such as table lamps, task lamps, replacement lamps (A19, PAR, etc.), chandeliers, wall sconces or ceiling fixtures has become as simple as changing a light bulb.
Readily available efficacy of 80 lumens per watt in both warm white (3000K CCT) and neutral white (4000K CCT) color temperatures. A high CRI of greater than 85 is available in both lighting class color temperatures. The inherent efficiency of an AC-direct design allows for a high power factor of 0.93 with no additional power conditioning or power factor correction circuitry. An additional benefit of the AC SimpleDrive configuration is the full range dimmability using Electronic (trailing edge) wall dimmers. A version with Triac dimmability is also coming soon.
"There are still literally billions of traditional incandescent and CFL fixtures being produced every year," George Lee, President of American Bright Optoelectronics Corp., noted. "The GoldenEye allows for a simple, cost effective means of producing LED versions of these fixtures," Lee added. "The low solutions cost and reliability of our AC LED takes down the last remaining barriers to LED conversions for most fixture manufacturers," he concluded.
Please contact the American Bright Optoelectronics Corp. for further information toll free at 1-888-533-0800. Or visit American Bright online at www.americanbrightled.com.
About American Bright Optoelectronics Corp.
American Bright Optoelectronics Corp. is an affiliate of Bright LED Electronics Group, a recognized global leader in the research, engineering, design, manufacturing and marketing of LED components to major markets worldwide.
Conscious of a global responsibility to the environment, the majority of products are produced with lead-free, RoHS compliant materials and processes. Bright LED Electronics is ISO 14001 & TS 16949 certified.
Contact
Clear Point Technical Marketing (719) 687-9814
E-mail:stevenc@americanbrightled.com
Web Site:www.goldeneye-acled.com/