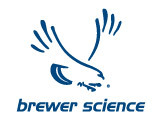 Date Announced: 14 Jan 2013
Tremendous progress has been made through the years by Brewer Science and the industry to make the through-silicon via (TSV) process a viable manufacturing option for three-dimensional device architecture. Brewer Science created ZoneBOND® technology, a novel, versatile solution encompassing process flow, materials, and equipment which mitigates device or interconnect damage risks associated with high-temperature or polymer-peel debonding methods. Brewer Science designed this versatile technology specifically to meet thin-wafer handling and processing requirements for a wide range of customers' thin-wafer-processing needs.
"Overcoming the challenges of high-volume 3D integration requires cooperation across the supply chain," said Dr.Tony Flaim, CTO of Brewer Science and inventor of the ZoneBOND® technology. "Brewer Science has made a number of critical performance improvements that will be discussed during the European 3D TSV Summit this month in Grenoble. Some of the latest improvements we have achieved are in bonding material total thickness variation for a single-coat application, wafer survivability during backside processing conditions, and thermoplastic materials performance," added Dr. Flaim.
For TSV creation, the nearly complete wafer is mounted to a carrier using a temporary bonding material before thinning (to less than 100 µm) and final processing, and then the wafer is removed from this rigid carrier. Dr. Flaim will present the latest technology advancements made by Brewer Science in providing a complete solution including materials, processes, and equipment that may be used for thin-wafer processing. He will also discuss the process flow for mounting a wafer to a carrier, final separation of the wafer from that carrier, and cleaning of the wafer.
Dr. Flaim is an invited speaker at the European 3D TSV Summit. His speech is scheduled on January 22, 2013, at 15.25 CET.
About Brewer Science
Brewer Science is a global technology leader in developing and manufacturing advanced materials, processes, and equipment for reliable fabrication of cutting-edge microdevices used in electronics such as tablets, smartphones, digital cameras, televisions, and LED lighting. Brewer Science provides process flexibility and a competitive edge for its customers and plays a critical role in the supply chain. Since 1981, when its ARC® materials revolutionized lithography processes, Brewer Science has expanded its technology to include products currently used in advanced lithography, chemical and mechanical device protection, thin layer handling, 3-D integration, and products based on carbon nanotubes and nanotechnology. With headquarters in Rolla, Missouri, Brewer Science supports its worldwide customers through a service and distribution network in North America, Europe, and Asia. Learn more at www.brewerscience.com.
Contact
Jason Neidrich, Brewer Science Advanced Package SBI Manager
E-mail:jneidrich@brewerscience.com
Web Site:www.brewerscience.com