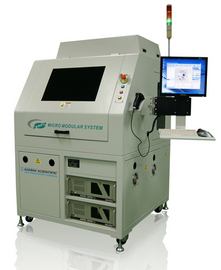 Date Announced: 14 Jan 2013
R&D for COB High-Power Array-LEDs or LED end-products requires testing solutions that provide high accuracy and repeatability. Micro Modular System (MMS) from Malaysia now offers the RT800, an easy-to-use and flexible automation system for reliability testing in the lab, in pre-production or for quality control. The platform is highly flexible for a wide range of test programs and products, like stress-test for chip-on-board array LEDs or long-time test of end products.
Available test options include an ID check, a functional test (Open/Short, Forward Voltage/Current, Reverse Voltage/Current, Peak/Dominant Wavelength, CIE x/y and CIE u'/v', CRI, CCT, Luminous Flux and Efficacy, Colour Purity, FWHM) and a dim test (power-up and evenness). A temperature-controlled test option is available. The optical-test hardware is provided by Gamma Scientific, San Diego, USA. Other tester hardware can be integrated on customer request.
Integrated is our new tester software LumereSoft 7, offering a flexible and easy-to-use test editor for the configuration of test parameters and test flow for each test, a zoom-able CIE xy diagram, a live feed of test results and statistics and more.
In order to cater for production needs for these LED products, MMS also offers an automated testing- and a marking-, singulation- and binning system. The testing system AT 100 provides a full range of temperature-controlled electrical, optical and dim tests and the singulation & binning system features laser marking, die set & press for singulation and up to 32 bins as tube output. Both systems have either magazine inputs with buffer or can be fully integrated via SMEMA conveyors.
MMS will present the Reliability Tester RT 800 on "Strategies in Light" 2013 in Santa Clara, CA.
MMS designs and builds back-end automation solutions for the LED and semiconductor industry since 1997 in Penang, Malaysia. With a significant share of mechanical-, control- and software-design engineers among our 80 employees, we provide complete and fully customised modules, machines or complete production lines. We focus on tester and handler for LEDs, but also design and build machine tools for singulation and trim & form and automation for assembly processes. For more information, please visit www.mmsis.com or send an e-mail to info@mmsis.com.
Contact
Micro Modular System Sdn. Bhd. Arne Dittmar Business Development +60 (0)4 646 0888
E-mail:info@mmsis.com
Web Site:www.mmsis.com