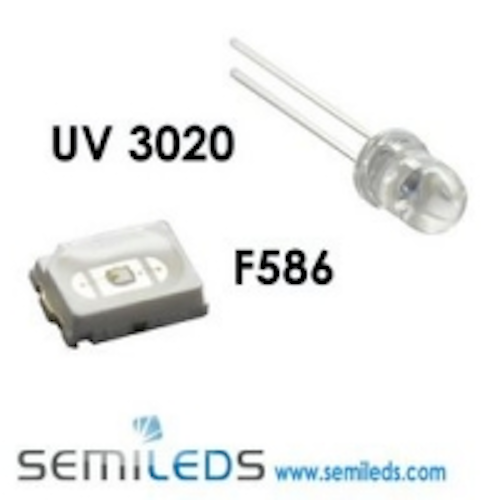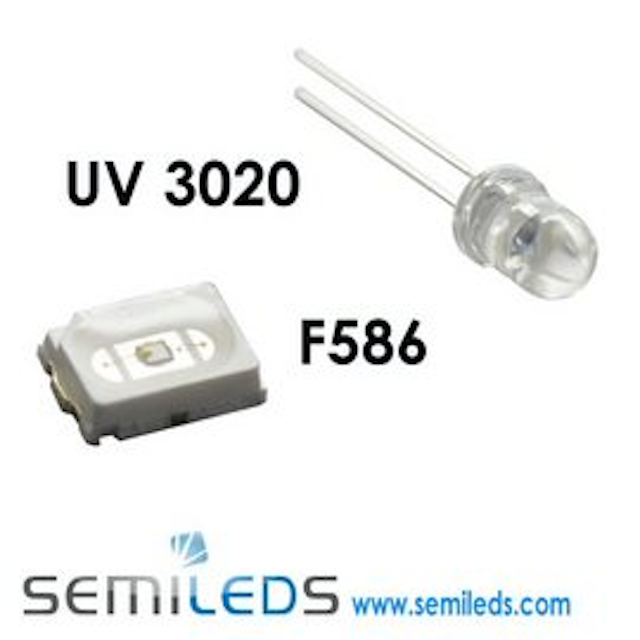 Date Announced: 18 Jan 2013
-- SemiLEDs adds 0.06W UV LEDs product series to its UV LED product portfolio, available in 365-425nm, typical power 5-15mW at 20mA (power is dependent on wavelength).
SemiLEDs (NASDAQ: LEDS), a global LED manufacturer, launches two new UV LEDs today. The new series of 3020 PLCC UV LEDs and 5mm through-hole lamp type UV LEDs incorporate SemiLEDs' unique and patented chip technology to offer higher performance and quality products to cost sensitive, retail applications.
The 3020 product series will provide a solution to consumers who are looking for a LED replacement for commercial UV tubes. The 3020 product series features a smaller footprint, excellent thermal properties, and high output power densities in a well distributed light pattern, ideal for tube replacement applications.
The 5mm through-hole lamp type UV LED is designed with a 20 - 30 degree beam angle for applications which require more directed and concentrated light in a smaller surface area, such as counterfeit detection and cosmetic retail markets.
Both products are available for immediate sampling and volume production in wavelengths 365nm – 425nm with typical output power 5-15mW at 20mA (power is dependent on wavelength). For further information, please visit SemiLEDs' website (www.semileds.com) or contact sales@semileds.com.
About SemiLEDs Corporation
SemiLEDs develops and manufactures LED chips and LED components based on its patented and proprietary core technology, for general lighting applications, including street lights and commercial, industrial and residential lighting, along with specialty industrial applications such as ultraviolet (UV) curing, medical/cosmetic, counterfeit detection, and horticulture. SemiLEDs sells blue, green and UV LED chips and components.
Contact
SemiLEDs Corporation Phone: +1(208)389-7515 (USA) +886-37-586-788 (Taiwan)
E-mail:sales@semileds.com
Web Site:www.semileds.com