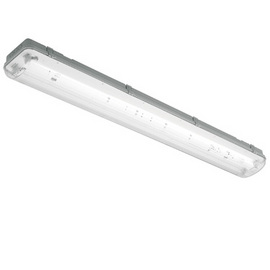 Date Announced: 12 Aug 2013
The VEX-VAPOUR is a linear vapour proof luminaire in grey finish polycarbonate. Designed for ceiling, suspended or wall mounting. A choice of LED driver options include DALI, an emergency version and microwave motion detection sensors.
Designed with public area lighting in mind this product is ideally suited to car parks and general illumination for indoor or outdoor use.
- IP Rated 65
- IK Rated 09
- 2 width dimension options and different length options
About Vexica
Vexica is proud to be a British manufacturer of LED lighting products and solutions. As experts in the design and delivery of LED lighting products we focus on providing top quality professional lighting systems for special projects.
We offer LED products for various applications and solutions including offering financing services for our products where energy savings and payback periods can be established.
Vexica have a high tech bespoke luminaire design service and incorporate specific LED technology into products to meet designers requirements. Our core design competences include electronics design, 3D mechanical design and thermal management of LEDs. We design products in Solid Works and have a Computation Fluid Dynamic (CFD) software suite to analyse product designs thermally.
Contact
Vexica +44 (0)113 2434813
E-mail:sales@vexica.com
Web Site:www.vexica.com