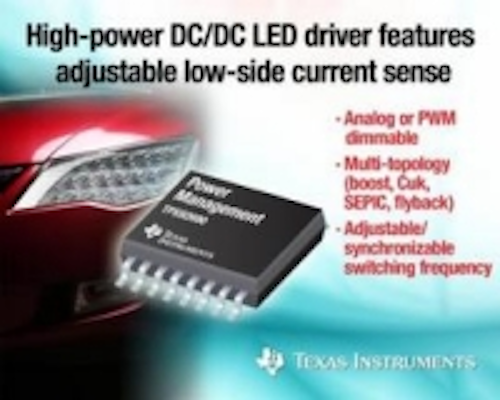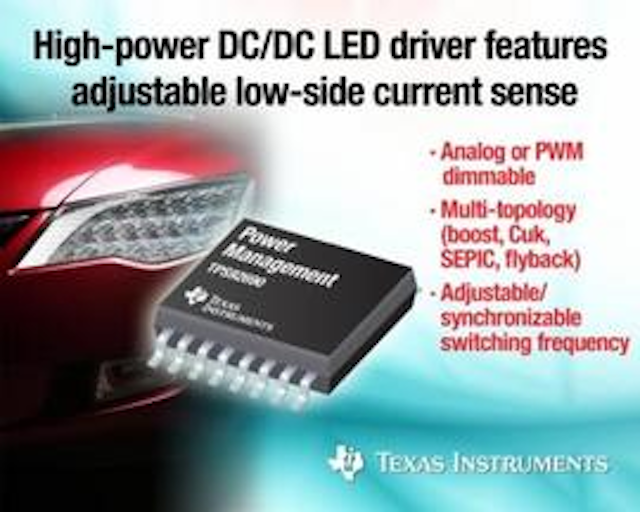 Date Announced: 12 Aug 2013
Dimmable, multi-topology DC/DC constant-current controller features low-side current sense
DALLAS – Texas Instruments (TI) (NASDAQ: TXN) introduced a high-power, multi-topology DC/DC LED driver with adjustable switching frequency and current sense threshold that provides design flexibility and low electro-magnetic interference (EMI) for automotive headlamps, fog lights and general-purpose area lighting.
The TPS92690 is an N-channel MOSFET controller with low-side current sense designed to support step-up (boost) or step-up/step-down (SEPIC, Cuk, flyback) LED driver topologies. For more information and samples, visit www.ti.com/tps92690-pr.
The TPS92690 DC/DC LED controller includes a number of features that give designers significant flexibility to optimize their systems. For example, adjustable switching frequency (up to 2 MHz) and current sense threshold allow designers to optimize LED drive electronics for small size, high efficiency, or a balance of both. Separate pulse-width modulation (PWM) and analog inputs interface with common dimming control methods to adjust LED current or implement thermal foldback. An internal oscillator sets the switching frequency of the converter, but can be overdriven by an external clock for synchronizing switching frequencies with other converters in a design. Low-side current sensing enables design of low-EMI topologies, such as the Cuk converter, while still maintaining a single wire connection to the LED load.
The TPS92690 joins TI's diverse LED driver portfolio that includes the LM3466, LM3409 and LM3421/3/4 DC/DC LED drivers.
Key features and benefits of the TPS92690:
- Offered in AEC-Q100-qualified automotive or commercial grades.
- 4.5-V to 75.0-V input voltage range is suitable for boost, SEPIC, Cuk and flyback topologies in a wide variety of LED applications.
- Low-side adjustable current sense (50 mV to 500 mV) minimizes power loss and provides analog dimming control.
- Under-voltage lockout (UVLO), LED over-voltage, cycle-by-cycle current limit and thermal shutdown protect against faults and abnormal operating conditions.
Availability, packaging and pricing
Available now in volume from TI and its authorized distributors, the TPS92690 is offered in a 16-pin PowerPad™ TSSOP and priced at US$1.55 each in 1,000-unit quantities.
Find out more about TI's LED lighting portfolio:
- Order the TPS92690 boost evaluation board, or download the 26-W Cuk reference design.
- Get more information on all of TI's lighting products: www.ti.com/lighting-pr.
- Design a complete LED power management system with TI's WEBENCH® LED Architect: www.ti.com/ledwebench-pr.
- Ask questions and share knowledge in the LED forum in the TI E2E™ Community: www.ti.com/ledforum-pr.
- Download LED reference designs from TI's PowerLab™ Reference Design Library: www.ti.com/powerlab-pr.
About Texas Instruments
Texas Instruments Incorporated (TI) is a global semiconductor design and manufacturing company that develops analog ICs and embedded processors. By employing the world's brightest minds, TI creates innovations that shape the future of technology. TI is helping more than 100,000 customers transform the future, today.
Trademarks
WEBENCH is a registered trademark and PowerPad, TI E2E and PowerLab are trademarks of Texas Instruments. All other trademarks belong to their respective owners.
Contact
Gayle Bullock, Texas Instruments Media Relations 408-721-2033
E-mail:gayle.bullock@ti.com
Web Site:www.ti.com