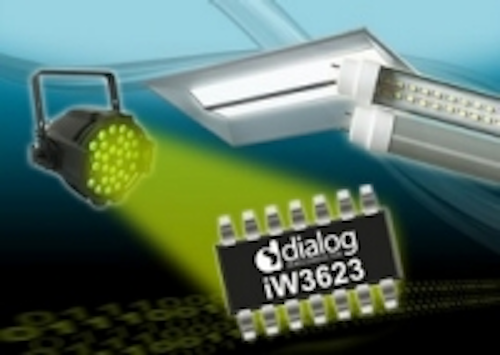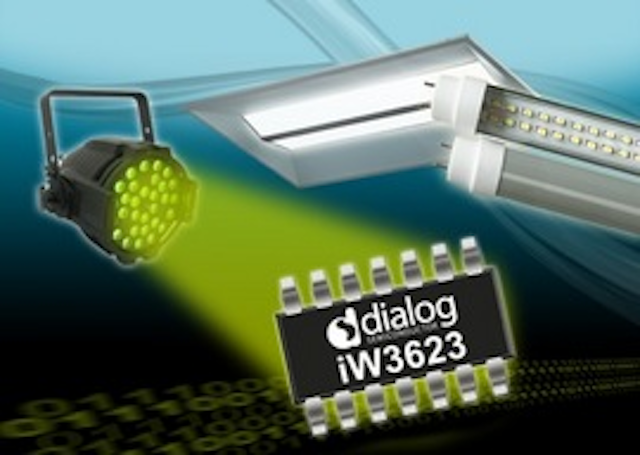 Date Announced: 14 Aug 2013
Dialog Semiconductor's Power Conversion Business Group, formerly iWatt Inc. (acquired July 2013), has announced a new SSL LED driver for downlight, PAR, T8, and flat panel ceiling lamp non-dimmable commercial lighting applications.
The two-stage iW3623, with a universal 100VAC to 277VAC input range and output power up to 45W, integrates boost and flyback converters into a single IC to reduce the number of discrete ICs required in an LED driver while enabling high PF >0.95 and low THD <10%. Dialog's patented Flickerless design achieves a near-zero 100 to 120Hz output ripple to eliminate flicker.
Additionally, taking power management beyond a typical power IC's thermal shutdown feature, which simply shuts the IC down when hot, the iW3623 includes a built-in over-temperature protection (OTP) and derating function that actually monitors the temperature inside the sealed SSL bulb and reduces the current drive to the LEDs incrementally as needed. This lowers power dissipation, results in cooler operation, and enables lighting designers to deliver a predictable, reliable bulb operating life.
Contact
Bill Moody, Moody & Associates PR PR for iWatt bill@moodypr.com 214-363-3460
E-mail:sherry.hill@diasemi.com
Web Site:iwatt.com/product/iw3623/