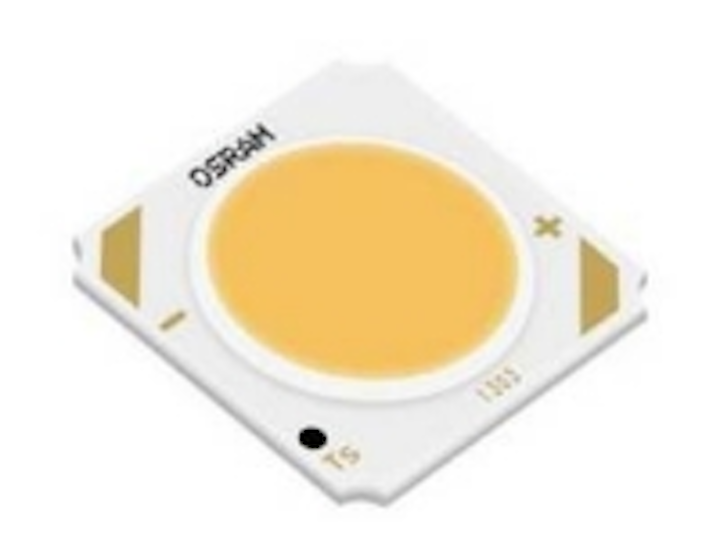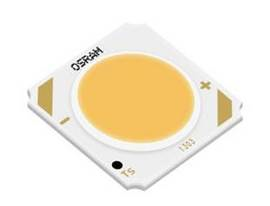 Date Announced: 21 Aug 2013
Osram Opto Semiconductors introduces new tiny, high-powered LED
The Soleriq S 13 shines with a small illuminated surface and high brightness of 1,500 lm
Osram Opto Semiconductors has announced the newest member of its high-power Soleriq family of LEDs, the Soleriq S 13. The tiny LED boasts high brightness from a light-emitting surface measuring just 13.5 mm in diameter and is available in a wide range of color temperatures. It is designed for use in luminaires with high performance requirements, and replaces high-wattage halogen spotlights in applications such as hotel, restaurant, retail and luxury residential lighting.
The new Soleriq S 13 provides outstanding basic lighting, particularly in professional applications, thanks to its brightness of 1,500 lm and a light-emitting surface of 13.5 mm. Retrofitted in LED luminaires or lamps, it replaces halogen spotlights. "The Soleriq S 13 is an ideal fit for the hospitality and home lighting sector because, in addition to its high brightness, it covers a wide range of color temperatures," said Marc Dyble, Product Marketing Manager for SSL. "Additionally, the color rendering index for all color temperatures is over 80. As a result, the S 13 significantly expands the application portfolio of the Soleriq LED family, whose existing E 30 and E 45 versions are designed for downlights."
Uniform color and light appearance
Like the E 30 and E 45, the Soleriq S 13 greatly simplifies luminaire design, requiring only one high-power component rather than several. The individual chips are closely arranged under a chip-on-board conversion layer, delivering a homogeneous light surface and ensuring uniform color and light appearance. For even better homogeneity, the chips are arranged in a circle under the conversion layer, simplifying the coupling of the LEDs into external, light-guiding optics. The light generated can be used with lower optical losses, making LED lamps and luminaires more efficient. In addition to its unique benefits, Soleriq S 13 also offers standard LED perks, including high energy efficiency, long lamp life and the associated minimal maintenance costs.
Simple installation with no SMT soldering
This high-power light source is relatively simple to work with. Unlike other commercially available high-power LEDs, the Soleriq S 13 can be mounted with glue, screws or a solderless connector, rather than with Surface Mount Technology (SMT) soldering. Although the connecting wires can be joined by simple manual soldering, a solderless connector can be employed which incorporates both the electrical contact and mechanical mounting, eliminating the need for soldering.
For more information on the Soleriq LED family, visit the Product Catalog on the Osram Opto Semiconductors website.
Technical data for the Soleriq S 13 (Zhaga compatible*):
Housing dimensions 18 mm x 18 mm
Light-emitting surface 13.5 mm
Color temperature (in Kelvin) 2,700 to 6,500
Typical brightness 1,500 lm
Typical efficiency Approx. 100 lm/W at 3,000 Kelvin
Color rendering index (CRI) min. 80
* The Zhaga Consortium, currently with 180 member companies worldwide, was established to define standards for LED modules. It gives consideration to mechanical, thermal, photometric and electrical interface parameters. With these defined standards, Zhaga-certified light engines will become the counterpart to standardized light sources in traditional lighting, such as incandescent or fluorescent lamps.
About Osram Opto Semiconductors
OSRAM, with its headquarters in Munich, is one of the two leading lighting manufacturers in the world. Its subsidiary, OSRAM Opto Semiconductors GmbH in Regensburg (Germany), offers its customers solutions based on semiconductor technology for lighting, sensor and visualization applications. Osram Opto Semiconductors has production sites in Regensburg (Germany) and Penang (Malaysia). Its headquarters for North America is in Sunnyvale (USA). Its headquarters for the Asia region is in Hong Kong. Osram Opto Semiconductors also has sales offices throughout the world.
Contact
Technical information: OSRAM Opto Semiconductors 866-993-5211
E-mail:info@osram-os.com
Web Site:www.osram-os.com