Pozeen releases 110 lm/W UL and DLC Listed LED T8 tube
Aug 23rd, 2013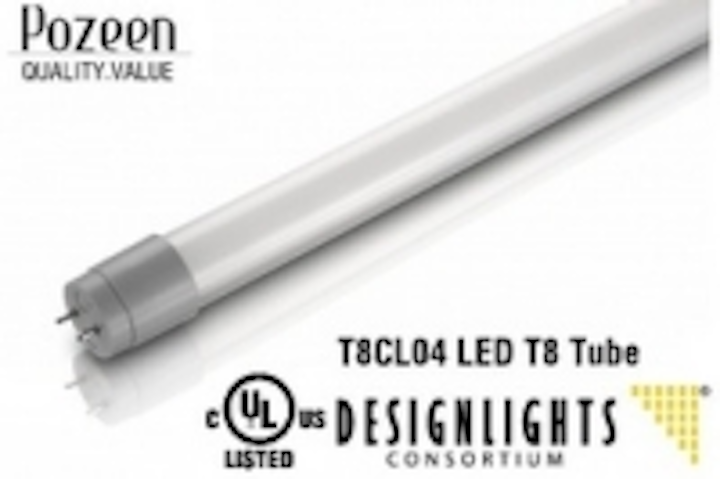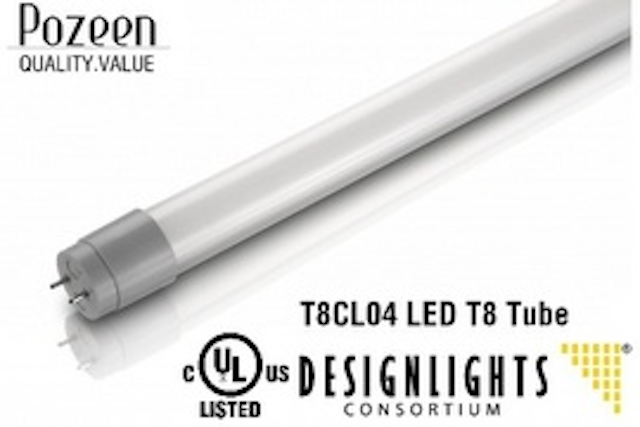 Date Announced: 23 Aug 2013
SHANGHAI, CHINA - Pozeen announced that the T8CL04 LED T8 tube was approved by DLC (DesignLights Consortium) under "four-foot linear replacement lamps" category. The T8CL04 LED tube qualifies express rebate solution of most utility companies.
The T8CL04 LED T8 tube consumes 18W and produces equivalent luminous intensity as F36T8 four foot linear fluorescent tubes. By using this tube, the customer would see 65% operating energy saving, 55% carbon emission reduction, and ROI in 5 months.
The tube features internal power supply technology, which provides a quick retrofit solution, typically within 5 minutes, for the customers. The T8 tube accepts 100-277VAC universal voltage with PF 0.90 and THD 15%, and produces almost 2000lm with CCT 4100K and CRI 83. The T8 tube is backed up with 5 years worry-free warranty.
The tube is also available in 2 foot, 3 foot and 5 foot lengths.
To learn more about this product, check http://www.pozeen.com/product/DLC_IPS_LED_t8_tubes.html
To download the specification sheet, check http://www.pozeen.com/product/data_sheets/T8CL04_LED_T8_Tube.pdf
To calculate the ROI for your project, check http://www.pozeen.com/product/energy_saving_calculator/Pozeen_T8CL04_LED_T8_ROI_Energy_Saving_Calculator.xls
About Pozeen
Pozeen, dedicated to deliver quality and value to our customers, is established in 2001 and has become a world leading innovator in developing, designing, producing, and distributing indoor and outdoor LED fixtures and lamps.
Pozeen has setup research and development (R&D) center in Shanghai and operates our ISO9001:2008 accredited manufacturing bases in Zhejiang and Shenzhen.
Our products have obtained DesignLights Consortium (DLC), Lighting Design Lab (LDL), UL, ETL, CE and RoHS certificates.
Through efforts of our professional sales and support team, we have built up our brand and reputation in America, Europe, Middle East and Southeast Asia regions.
Contact
Pozeen LED LTD. +86-21-50201276
E-mail:info@pozeen.com