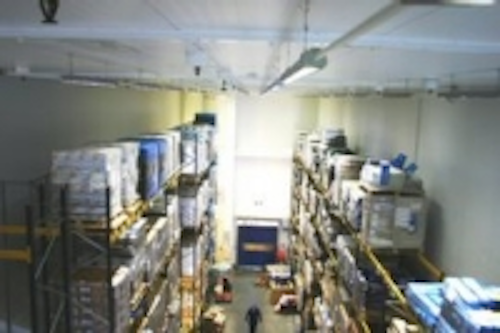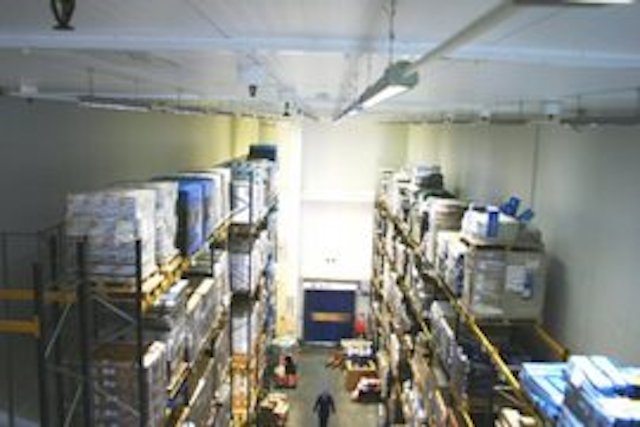 Date Announced: 16 Mar 2013
-- New LED lighting system, controlled by Steinel motion detectors, was installed to ensure lights are switched on only when rooms are occupied.
-- Steinel technology proved robust enough to cope with high-ceilinged, sub-zero industrial environment.
-- Annual savings: 230,000 kWh; £40,000.00 in energy and maintenance costs; 125 tonnes of CO2.
Direct Table Foods has cut the lighting energy consumption at its bacon processing facility in Suffolk by a staggering 66%, as a result of an intelligent lighting installation of LED lamps, controlled by high-bay motion detectors from Steinel (UK) Ltd.
In order to meet its Climate Change Levy obligations, while also targeting important savings on energy bills and maintenance costs, Direct Table Foods decided to re-examine the way it lit the chill rooms and production halls at its Bury St Edmunds facility.
The busy Direct Table Foods plant, which manufactures quality bacon products for the UK retail, food-service and manufacturing markets, typically left its lighting switched on for 24 hours a day. What's more, the existing 400W metal-halide lamps emitted heat as well as light, which meant the rooms required additional cooling. This drove up Direct Table Foods' carbon emissions even further.
Finding a comprehensive solution
LED lamps appeared to offer an effective answer to the problem of lighting energy waste. With lifespans of up to 16 years, plus a low energy consumption, LED lamps also generate much less heat, removing the need for additional cooling. However, the issue of round-the-clock lighting remained.
Direct Table Foods brought in Light By Design Ltd – a Suffolk-based distributor of LED products – to find a solution. Light By Design suggested an LED lighting system controlled by Steinel motion detectors that could ensure spaces were lit only when they were actually occupied.
Demanding industrial environment
"We performed our own testing on the Steinel motion detectors to make sure they could cope with the demands of the Direct Table Foods plant," comments Carl Bennett, Managing Director of Light By Design. "The meat stores at the Direct Table Foods site are refrigerated to sub-zero temperatures, while the high ceilings mean a substantial distance between the sensors and the activity on the floor."
"Steinel's IS 345 MX Highbay proved to be sensitive enough to easily detect movement at floor level, while also operating perfectly even in very cold temperatures," Mr Bennett continues. "What's more, we were able to achieve a very high ratio of lamps to a single sensor. This reassured the client that the motion detectors were robust enough for the job."
Instant light, but only when needed
In total, 69 motion detectors were installed at the Direct Table Foods facility, controlling almost 500 LED lamps. Steinel IS 345 MX Highbay sensors were placed between the high racks of stored goods. These motion detectors were selected for their large radial reach of 30m x 4m and ability to function in temperatures as low as -20°C.
For the open circulation areas, Steinel IS 3360 sensors were chosen. Designed for watching over high spaces and large areas, these 360° motion detectors have a maximum reach of 20m. The sensors work to instantaneously switch the lighting from a dimmed (20%) setting to full power when movement is detected within the space.
Enhanced Capital Allowances
"The installation of Steinel motion detectors proved very straightforward," says Light By Design's Mr Bennett. "It was an easy set-up, and Direct Table Foods has not had any problems with the sensors during the two years they've been in place."
What's more, the project qualified under the government's Enhanced Capital Allowances (ECA) scheme, which has allowed Direct Table Foods to deduct the costs of its energy-saving lighting upgrade from its taxable profits and reduce its tax bill.
Energy savings
The installation of motion detectors, in combination with the new LED lighting, has resulted in dramatic energy savings for Direct Table Foods. At the Bury St Edmunds facility, annual energy consumption has been reduced by a staggering 230,000 kWh – a 66% reduction. This means that Direct Table Foods is saving 125 tonnes of CO2 every year.
The project has also produced significant financial savings for the company.
Direct Tables Foods' annual energy costs have been significantly reduced and further savings on maintenance costs will bring the total financial savings up to £49,000 each year.
Lower maintenance burden
"Previously, Direct Table Foods found that its lighting needed complete replacement every two years, due to the short lifespan of the metal-halide lamps," says Light By Design's Mr Bennett. "The disposal costs, plus regular disruption and downtime involved in this overhaul only added to the costs."
"However," he continues, "the new LED lamps have an estimated lifespan of 10-16 years, while the Steinel motion detectors facilitate reduced hours of operation for the lamps, further prolonging their lifespan. This means that Direct Table Foods' annual maintenance costs have been reduced by a massive £10,000pa
Outstanding all round
The results of the project have been outstanding all round for Direct Table Foods. The project's payback period would normally have been two years, but it was reduced to just seven months, in light of the resulting Climate Change Levy rebate.
"By taking advantage of tax relief under the ECA scheme and thinking strategically about the control of its lighting, Direct Table Foods has been able to create a modern, efficient lighting system," concludes Mr Bennett. "Steinel motion detectors have played a crucial role in producing for the company a lower maintenance burden, reduced energy costs and a smaller carbon footprint."
Contact
Yvette White Steinel (UK) Limited 25 Manasty Road, Axis Park, Orton Southgate. Peterborough. PE2 6UP Direct Tel: 01733 366740 Direct Fax: 01733 366745
E-mail:yvettewhite@steinel.co.uk
Web Site:www.steinel.co.uk