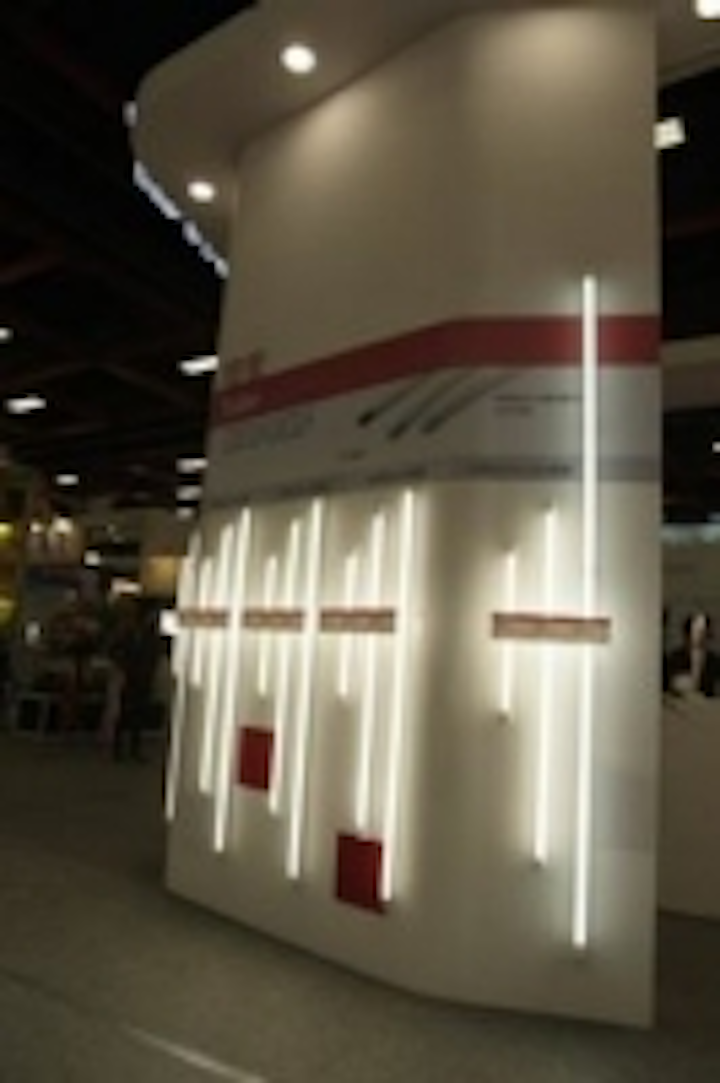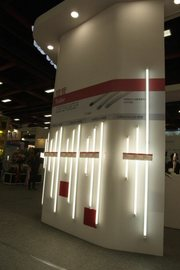 Date Announced: 26 Mar 2013
Lextar Electronics Corp. ("Lextar" or the "Company) (TAIEX: 3698) announces the release of 8-foot T8 LED high-efficiency tubes, using Lextar LM-80 certified LED packaging products. The tubes sport 110 lm/W and above efficiency, and are expected to be mass produced in 2/q 2013, upon which one of Lextar's main Japan-based brand customers will received first shipments.
Lextar will showcase the technology for the first time to the public from March 26-29 at the Taiwan International Lighting Show (TILS 2013).
The 8-foot (2.4 meter) lamp provides 40% higher efficiency compared to fluorescent lamps, and is able to achieve light uniformity with linear T8 dimension, making the lamp technology a breakthrough in terms of surpassing production, assembly and material restrictions, as well as an appropriate substitute for the traditional 8-foot T8 lamps.
The new T8 LED lamp has a lifespan of 40,000 hours (five times the length of fluorescent lamps), and has a lightweight design to ensure safety, making the technology very suitable for stores, warehousing, bus/train stations, tunnels and other public places that use lighting for long periods of time. The highly energy efficient lamps will help customers save on maintenance costs and on energy costs.
Additionally, the technology is also being set for T10 specifications as well as for GX16 and R17 lamp holder for aim at various Japan-, Asia Pacific- and Europe-based markets.
Lextar also plans to showcase five types of other products at the Taiwan-based show: Economic, Standard, Premium, E-T8, and GX16 for the Japan market. The products will appear in 2-, 4- and 5-foot sizes and will also have various color temperature choices. Moreover, viewers at the show will also be able to see the Compny's LED T5 batten, which have been extended to the luminaire segment to provide customers with alternative choices for installation.
About Lextar Electronics
Lextar Electronics Corp. (TAIEX 3698), founded on May 23, 2008, is a subsidiary of AU Optronics. It specializes in manufacturing high-brightness LED epi wafers, chips and packages, as well as energy-saving and smart lighting products. The range of applications includes LCD backlighting, LED light module, LED light source and luminaires. Lextar officially acquired LightHouse Technology Inc. in March 2010, and Wellypower Optronics in February 2013. The company now houses 3,700 employees and its headquarters is in the Hsinchu Science Park, Taiwan. Its manufacturing plants are located in the Hsinchu Science Park, Hukou Industrial Park and Chunan Science Park in Taiwan, and an assembly plant in Suzhou, China. Lextar's turnover in 2012: USD 339.5 million.
Contact
Fiona Chiu, Corporate Communications Lextar Electronics Corp. Tel: +886-3-5658800 ext 1894 Fax: +886-3-5638319 ext. 501894
E-mail:Fiona.Chiu@Lextar.com
Web Site:www.Lextar.com