WBOC-TV/FOX21 and Watchfire Signs Take Hi-Def TV Outside the Box
Mar 25th, 2013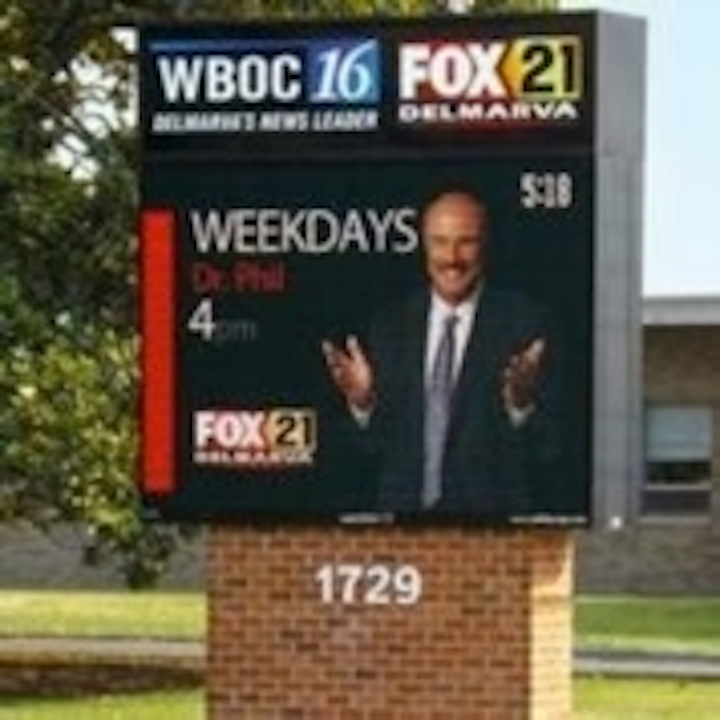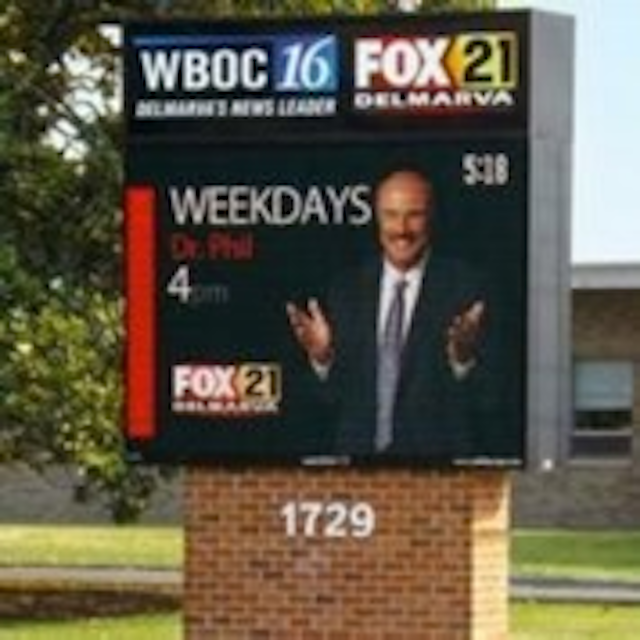 Date Announced: 25 Mar 2013
DANVILLE, Ill. and SALISBURY, Md. – (March 25, 2013) – WBOC-TV and FOX21, in Salisbury, Md., have taken their commitment to delivering high-definition broadcasts one step further with the installation of their new LED electronic message center from Danville, Ill.-based Watchfire Signs (www.watchfiresigns.com).
In choosing a new LED sign, WBOC-TV/FOX21 worked extensively with Phillips Signs to find a dynamic sign "that looked as good as our television broadcasts," explained Creative Services Director Mary Borger.
"Everything WBOC-TV/FOX21 does is in high definition, so we wanted an electronic message center that would reflect that," echoed Ben Phillips, president of Phillips Signs in Seaford, Del., the stations' long-time signage partner. "We only deal in Watchfire signs, and when the new XVS 12mm came on the market, the quality and resolution blew everyone away."
As part of a multimillion dollar renovation, WBOC-TV/FOX21, a CBS affiliate with a Fox affiliate sub-channel, upgraded the illuminated plexiglass sign in front of the stations with a 7'5"x10'3" XVS 12mm sign, Watchfire's highest resolution sign and the first of its kind in the area.
"Each square foot module of our XVS 12mm contains 576 pixels – 1728 red, green and blue LEDs. Combined with our Ignite® software, the displays are stunning to see in the field. Sales are far outperforming projections, due to the exceptional image quality," explained John Kunze, director of sign division sales at Watchfire Signs.
With Watchfire's Ignite® Graphics software, the graphic design team at WBOC-TV/FOX21 was able to create custom content to promote upcoming shows, showcase special news segments, feature on-air personalities and deliver image-building messages. Borger found the sign particularly effective during the recent ratings "sweeps" period, updating the sign every day to feature high-resolution images that match those featured online and on Facebook.
Phillips Signs was instrumental in educating the stations' graphic design team about how best to use the sign, and Watchfire's technical support staff was available to answer questions posed by the stations' engineers. "This is why I'm exclusively a Watchfire dealer," said Phillips. "Watchfire was able to answer even the most technical questions without missing a beat."
"We couldn't be happier with the new sign," said Borger. "Phillips Signs and Watchfire did an outstanding job."
The Watchfire XVS 12mm LED sign is designed for businesses requiring outdoor signage with high-resolution images. It features full-motion video capability at up to 60 frames per second with optional live-video capability. XVS 12mm signs offer industry-leading image quality, perfected through whole-sign color calibration. The 12mm model delivers an optimal balance of brightness and energy efficiency, providing up to 50 percent energy cost savings to speed return on investment.
Watchfire Signs manufactures a full line of electronic message centers. It is the only manufacturer that fully encapsulates every LED module in a thick bed of silicone gel, enabling the modules to operate reliably in any weather conditions. Watchfire's streamlined design enhances durability by minimizing the number of parts and connections, improving field performance and reliability. Watchfire message center signs feature lightweight, yet durable extruded aluminum cabinetry with precision-mitered corners, solid welds and stainless steel fasteners to deliver low-cost, fast installation and years of worry-free performance. Watchfire's warranty, lead times, customer support and software are considered to be the best in the industry.
About Watchfire Signs
Watchfire Signs designs, engineers and manufactures the best looking, most durable outdoor LED signs, Price Watcher gas price signs and digital billboards to help businesses and organizations increase visibility and drive growth. Headquartered in Danville, Ill., Watchfire has manufactured outdoor electric signs since 1932 and LED signs since 1996. The company has created more than 45,000 Watchfire LED signs for retail, auto dealers, restaurants, convenience stores, gas stations, banks, schools, places of worship and other locations worldwide. For more information, go to www.watchfiresigns.com.
###
Contact
Linda Muskin Clarus Communications 847.432.7300
E-mail:lmuskin@teamclarus.com
Web Site:www.watchfiresigns.com