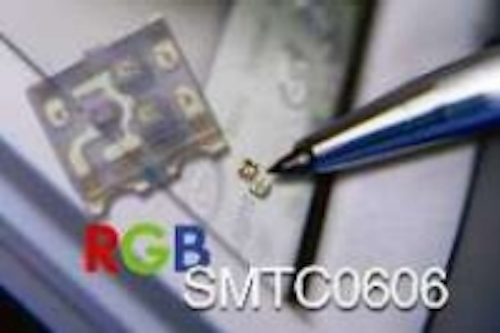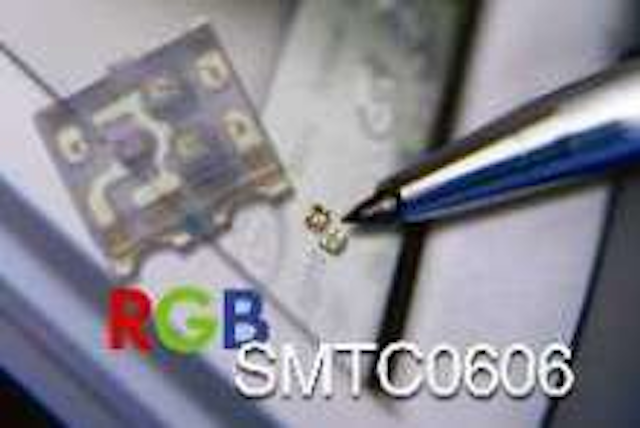 Date Announced: 02 Feb 2005
BivarOpto™, the Optoelectronics Division of Bivar, Inc., introduces a new, ultra-thin [0.024" (0.6mm)] surface mount RGB (red, green, blue) device featuring individual addressable die for exact color mixing and matching, creating a new solution for diverse, space-conscious applications, including backlit keypads and LCDs used in handheld and mobile appliance applications such as cell phones, MP3 digital music players, PDAs, e-book readers and games.
Provided in an industry-standard 0606 SMT device package, this unit is ideally suited for battery operated devices due to its low power consumption and form factor, enabling use of a single or multiple, full spectrum color chip. The SMTC0606 is also manufactured in compliance with WEEE and RoHS PB Free materials and processes.
The SMTC0606 features an internal tri-chip circuit design, employing the use of three individually addressable LED die. Lens appearance when off is water clear. The tri-chip RGB design is comprised of a single AlGaInP and two InGaN/SIC chip dies, featuring peak wavelengths of 635, 520 and 465 (nm) respectively. The result is a brilliant, full color display that can be programmed to meet specific display needs. Absolute maximum rating of forward current drive is 125mA (Peak If).
The SMTC0606 RGB LED chip measures only 0.059" (1.5mm) x 0.063" (1.6mm) x a thin 0.024' (0.6mm) in height. Units are encapsulated in a special epoxy blend to assure proper withstanding of temperature, operation and assembly processes. Other color combinations are available by special order (consult factory).
The SMTC0606 is also ideally suited for use with BivarOpto patented Flexible Light Pipes (FLP) for added ability to locate desired display lighting immediate to the circuit board area or up to 100m (328 feet) via the FLP mono-fiber without degradation, and can also be used with BivarOpto's complete line of standard Light Pipe products. The SMTC Series is provided on tape and reel in quantities of 4,000 or in smaller quantities when specified to meet specific production quantity requirements. The devices also complement all surface mount device (SMD) assembly processes and automated insertion plant equipment.
"The SMTC0606 RGB Series creates a new dimension in the ability to bring dynamic color display to virtually any mobile or handheld appliances where low power consumption is required" stated Anthony Vilgiate, Bivar's Vice President of Marketing. "We are developing innovative Optoelectronics devices to simplify the assembly and manufacturing process, while opening the creative doors to designer freedom."
The SMTC0606 LED is priced from $1.45 each in production quantities, immediately available from stock.
Contact
Bivar, Inc. 4-T Thomas Irvine, CA 92618 2593, USA Phone: 949-951-8808 FAX: 949-951-3974
Web Site:http://www.bivar.com