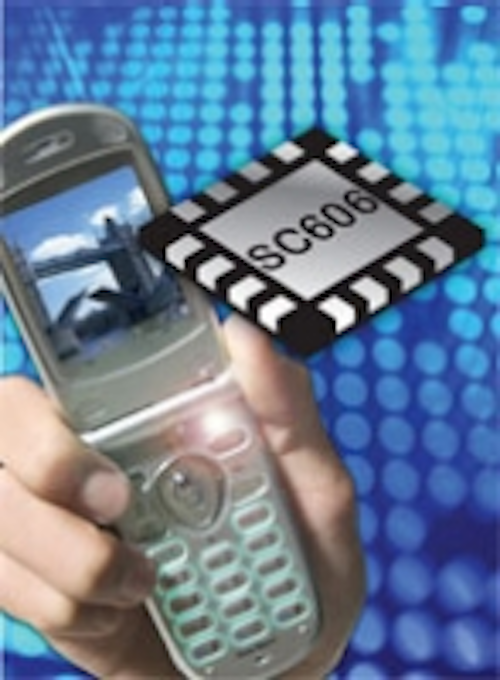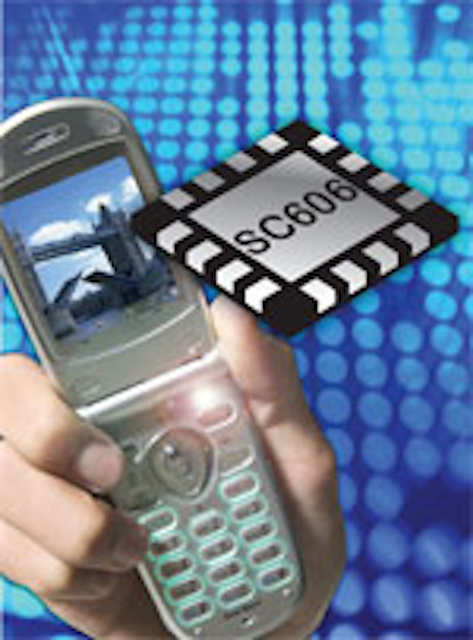 Date Announced: 15 Feb 2005
Semtech Corp. (Nasdaq: SMTC), a leading supplier of analog and mixed-signal semiconductors for communications, portable devices, computers, and industrial equipment, today announced the SC606, a charge pump white/color LED driver for up to six LEDs.
The dual U.S.-patented driver is designed to deliver consistent LED brightness and extended battery life in advanced Lithium Ion (Li-Ion) battery-powered handheld devices.
The SC606 can power six LEDs in a configuration that is ideal for advanced PDA, cell phone or other multifunction devices that need to power a display, keypad backlighting and a flash, or other combination of functions.
The six LEDs are divided into three pairs, each of which can be programmed independently from the others. Output range for each pair can be adjusted from 0–32mA with 500µA resolution, and tight current regulation is guaranteed for a total device output up to 120mA.
LED brightness levels for each pair can be controlled via an Inter-Integrated Circuit (I2C) serial bus that allows designers to easily control dimming, brightness or blinking LED applications.
"Use of I2C control enables designers to quickly modify LED driver designs to accommodate the changing system requirements in existing and future handheld devices" said C.S. Mitter, Semtech's Director of Power Management for Handheld Products. "Highly flexible control, along with very tight and predictable accuracy/matching, give designers the solution they need to differentiate their product in an aggressive market."
The SC606 is a member of Semtech's advanced fractional charge pump family and is based on the company's patented mAhXLife™ technology, an inductorless design that yields highly efficient, tightly regulated output voltages for consistent LED brightness and longer battery life. T
he SC606 leverages the mAhXLife technology to deliver current accuracy of ± 6.5% over a wide range of input voltages. Typical current accuracy is 2 percent.
The SC606 delivers more than 90% power efficiency with a built-in three-mode self-regulating feature that adjusts the voltage conversion ratio based on input voltage levels. At high input voltages, the device maintains a 1X voltage conversion mode as long as possible to reduce the power drain. Under lower voltage levels, the device will automatically switch to 1.5X mode and then to 2X mode when necessary.
Key Features of the SC606
- I2C bus for LED brightness configuration
- Current accuracy of ± 6.5% of the specified value over a wide range of VIN and temperature; 2% typical accuracy at room temperature
- Separate brightness zones for multiple displays
- Current matching tolerance of ± 3.5% from LED to LED over a wide range of VIN and temperature; 1% typical matching at room temperature
- Low noise, inductor-free design
- Variable operation frequency: either 250kHz or 1.33MHz
1x, 1.5x, 2x charge pump modes
- Very high efficiency over 90% of battery life
- Current regulation for 6 LEDs; wide current range per LED [0.5mA – 32mA]
Pricing and Availability
The SC606 is available immediately in production quantities and is priced at $1.30 each in 1,000-piece lots. The device is available in a 4mm x 4mm MLP-16 package. Ordering code is SC606AIMLTRT. An evaluation board is also available with the ordering code of SC606AEVB. Semtech offers comprehensive design assistance, including field- and factory-based support. Data sheets, volume pricing, and delivery quotes, as well as evaluation kits and samples, are available by contacting salesinfo@semtech.com.
Contact
Semtech Corp. 200 Flynn Road, Camarillo, CA 93012-8790 Tel. +1 (805) 498-2111
E-mail:info@semtech.com
Web Site:http://www.semtech.com