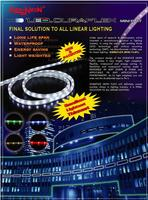 Date Announced: 25 May 2005
Neo-Neon is proud to announce that we have finally achieved a revolutionary breakthrough in the LED Linear technical competition. In using the latest light emitting diode (LED) technology and surface mounting technology (SMT), we manufactured the world thinnest flexible lighting strip —Duraflex (mini flat).
Duraflex (mini flat) is already US Patented. The compact and unique design of the Duraflex (mini flat) with the smallest dimension 5x 8mm can be used in various voltage, i.e. 6VDC, 12VDC, 24VAC, 120VAC, 240VAC. The précised design makes it very bright, light weighted, flexible, 100% waterproof and energy saving. Its flexible and waterproof natures make it BENDABLE IN ANY SHAPE & FORM and the unique 6VDC model can cut by any bulb for any length. It's applicable in any application & environment. As it is light weighted and convenient to install even you can use the double side tape to fix it.
Duraflex (mini flat) will definitely create another climax in lighting industry. It is final solution to all linear lighting.
Contact
America Division Mr. Keith Lam Tel: (86)13809600176 Mr. Steve Yung Tell: (86) 13809600676 Email: america@neo-neon.com Europe Division Mr. John Jang Tel: (86) 13902556414 Email: europe@neo-neon.com Asia Division Mr. Ben Lam Tel: (86) 13828023290 Email: asia@neo-neon.com
E-mail:sales@neo-neon.com
Web Site:http://www.neo-neon.com