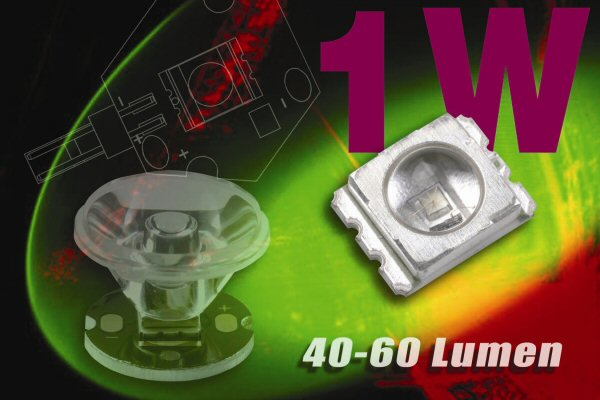 Date Announced: 25 May 2005
BivarOpto, the Optoelectronics Division of Bivar, Inc., introduces an all-new 1 Watt LED module capable of supplying greater brightness and full spectrum color lightingup to upwards of 60-lumen output for a wide range of general illumination and specialty lighting applications.
Immediate uses of the new, higher intensity single chip LED-module unit include safety, signaling, emergency indicators lighting and use in high intensitygeneral lighting requirements applications such as headlamps and flashlights, household lighting and automotive headlamps. The inherent brightness of this new unitmodule is also ideal for general illumination such as downlighting, concentrated specialty lighting and large flat panel display backlighting.
Automotive, medical, aerospace, security, cell phones and portable devices and other applications requiring a bright, reliable light sources are also anticipated to have find major uses for this innovative of thisLED module.
The new LTX LK Series employs the latest Cree® XLamp™ technology, provided in a compact surface mount device (SMD) that is packaged onto an aluminum PCB base, using standard reflow processes to achieve electrical and thermal connections without epoxy. This enables the device to exhibit excellent thermal management characteristics. Capable of offering up to 130% more color gamut for greater color saturation while, providing 40 to 60 lumen (Im) outputs, the entire module measures only 0.28" (7.0mm) x 0.35" (9.0mm)0.800" (20.3mm) in a hexagon pattern and is manufactured lead (Pb) free in compliance with WEEE and RoHS materials and process specifications to meet the growing global emphasis on environmental responsibility. Featured in the encased metal module with an integrated lens, the LTX LK offers a robust design for operating temperatures from -30º to 100º C and ESD >2000V per Mil-Std-883D. Viewing angle is 100º, with full spectrum wavelengths available from 465nm to 635nm, and also in white to 8000K. Maximum If rating is 400mA. Lens appearance when off is transparent water clear.
For ease of installation, the unit will is available in with a two-pin header based connector assembly for simple snap-in, "plug n' play" circuitry and replacements. Other accessory packaging will be offered for general illumination applications featuring an integral conical reflectorTIR lens for use as spots, floods or wash lighting.
Anthony Vilgiate, Bivar's Vice President of Marketing, stated, "The LKTX creates an all-new line of superior LED products for Bivar, opening new marketsa vista andof new applications for highly reliable, leading edge display designs." He further stated, "this new technology direction creates a substantial qualification for Bivar to contribute to new markets where we can offer the same level of global support and product quality that has given us credible relationships with customersOEMs worldwide."
The LTX LK LED Module is priced from $4.00 each in production quantities and is , immediately available from stock. Special Custom assemblies designed to address customer specific lighting and illumination requirements and performance features are available by special order (consult factory).
Contact
Bivar, Inc., 4 Thomas, Irvine, CA 92618-2593 Anthony Vilgiate (949) 951-8808
E-mail:avilgiate@bivar.com
Web Site:http://www.bivar.com