BivarOpto 1.0-inch blue seven-segment display
May 4th, 2005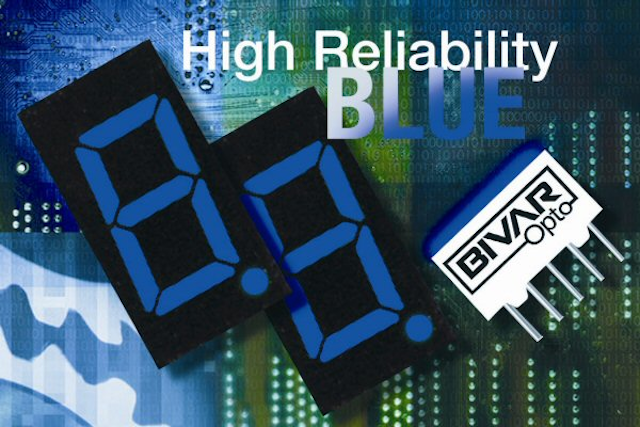 Date Announced: 04 May 2005
BivarOpto, the Optoelectronics division of Bivar, Inc., introduces an all-new, ultra high reliability blue seven-segment display for applications requiring dependable performance in mission critical uses, such as medical and life support systems, avionics, industrial controls, and where the greater eye appeal and color enhancements will improve accurate visual perception and attention.
Each segment of the new 1.0-inch seven-segment display features two chips in series that results in industry's highest uniformity, and tight BIN control processes for greatest brightness and color. These new seven-segment displays employ Cree Technology-based dice, the same high-efficiency InGaN chips as used in BivarOpto discrete and surface mounted (SMD) LED products, a geometrically enhanced design to maximize light extraction efficiency, while operating at low current. To meet the growing emphasis on environmental responsibility, they are manufactured in compliance with WEEE and RoHS materials and process specifications.
The new BD Blue Series is available in a range of single-digit, seven-segment LED displays, ranging in 5 different digit heights from 0.301" (7.7mm) to 1.0" (25.4mm), in 24 different styles and models. Connection and the choice of either common anode or common cathode circuitry enables use in any numeric display configuration, including right and left hand decimal, including 18 alpha characters. Standard wavelength is 465nm (peak), featuring a specially compounded diffused lens for even color distribution. Standard face color is black with white diffused segments. Other segment or face colors are available by special order.
BivarOpto also offers segment displays in multi-digit arrays from 2-8 with overflow (+/-) and clock display options. Ready for immediate installation or use with automated insertion equipment or dispensing systems, all segments are shipped in ESD-dissipative tubes to assure safe handling during shipping and simplified inspection.
Anthony Vilgiate, Vice President, Strategic Business Development at Bivar, stated, "The redundant dual-chip design in each segment assures reliable performance and uniform light distribution, while the chip's inherent strengths creates enhanced brightness at this wavelength which supports recent market interest in blue indicators and displays."
The BD Series of seven-segment displays are priced from less than $ 4.00 per digit in production piece quantities. Standard ESD-packaged units are immediately available from stock. Custom options in color or characteristics are available by special quotation.
Contact
Bivar, Inc., 4 Thomas, Irvine, CA 92618-2593 Anthony Vilgiate Tel: (949) 951-8808 Fax: (949) 951-3974
E-mail:avilgiate@bivar.com
Web Site:http://www.bivar.com