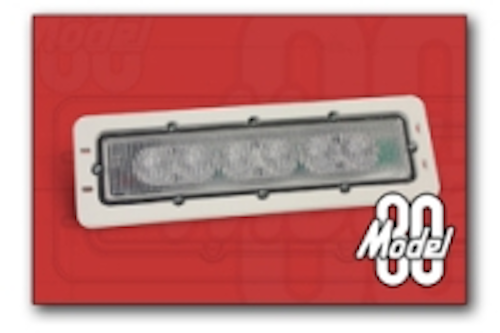 Date Announced: 06 May 2005
Truck-Lite has introduced the patent pending LED Super Strip-Lite, a new form of lighting using LEDs evenly spaced on a fabricated aluminum channel. Four-foot strips use 12 diodes, while two foot strips have six diodes. Both have diodes spaced every four inches.
The lightweight LED Super Strip-Lites are available in two styles of extrusions, shaped either for mounting flat or into corners. They can be mounted almost anywhere, but are most effective in corners, evenly spaced on roof interiors or, in vocational trucks, along horizontal or vertical shelf and cabinet surfaces.
"Interior lighting quality is important in many trucking operations," said Bob Ives, Vice President, Marketing. "These new LED strip lamps improve brightness inside truck bodies and trailers, and eliminate most shadows that interfere with a driver's ability to get the job done."
Lamps draw only 0.7 amps for each 6-diode, 2-foot strip. A 12-diode, 4-foot strip draws 1.4 amps. Because the strip of LEDs spreads light over a distance, lighting is even with minimal shadows. The white LED lighting is brighter and whiter than other forms of interior trailer lighting, so colors are truer and freight is easier to read. This can help eliminate errors in securing product, item selection and paperwork.
Truck-Lite has also introduced Model 80 LED Interior Trailer lamps, a new line of patent pending LED lamps designed to be direct replacements for most popular sizes and shapes.
"LEDs have many advantages over both incandescent and fluorescent lights," said Bob Ives, Truck-Lite Vice President of Marketing. "In trailers, they provide a brighter, whiter light that allows a more realistic view of trailer contents. Perhaps more importantly, LEDs are more effective in the cold experienced in refrigerated trailers and van trailers in cold weather. They don't flicker like fluorescent lighting."
The rugged aluminum housings are 5-3/16" wide by 18-13/16" long and weigh in at only two pounds. They are 1-1/4" thick, compared with 1-5/8" fluorescents. That leaves 3/8" more clearance for loads or loading equipment.
Current draw for the Truck-Lite Model 80 is minimal. The lights have Truck-Lite's exclusive OmniVolt® technology built in, with full lighting provided from as low as 10-volts to as high as 30-volts, with no loss of brightness or lamp life. Thus eliminating current problems experienced with low voltage and fluorescent lamps.
Contact
Truck-Lite Co., Inc. 310 E. Elmwood Ave. Falconer, NY 14733 Tel. +1 800 562-5012
E-mail:info@truck-lite.com
Web Site:http://www.truck-lite.com