American Bright launches single 3-Watt LED light source
May 4th, 2005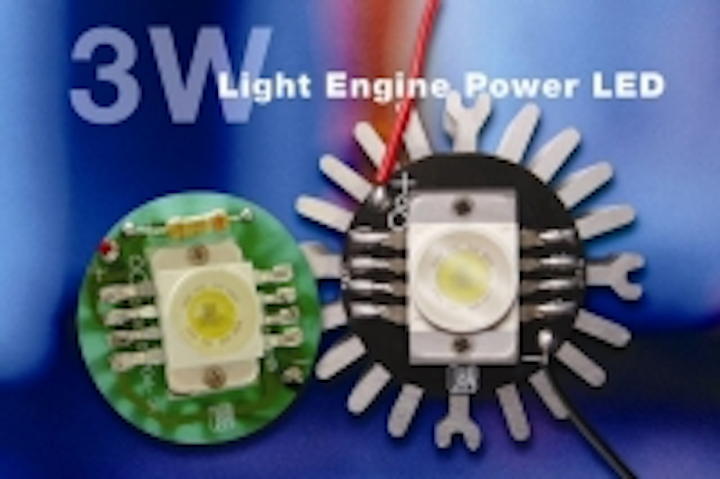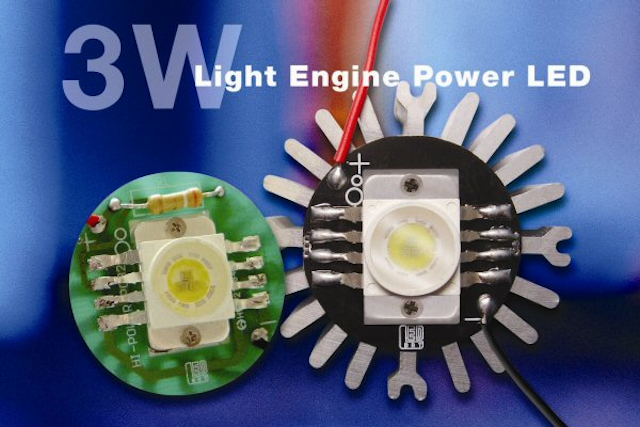 Date Announced: 04 May 2005
American Bright Optoelectronics introduces one of industry's highest powered, single LED devices, capable of displaying 6500K (IF = 350mA) with an input power of 3.0 Watts (PD). Immediate cost-saving use of this type of single, high power LED includes light torches, desk lamps, flashlights, LCD backlighting, interior lighting for automotive, architectural lighting, and other space-conscious applications, or general lighting needs requiring a high intensity, long-life light source, and where thermal management is a key design/function criteria.
The NovaBrite™ BWL 3 Series is offered as a complete "Light Engine", a PCB-mounted unit ("Light Module"), or a discrete LED component ("Emitter"), providing the designer and user with unlimited use and installation flexibility.
The self-contained Light Engine is comprised of the miniature 13.50mm square LED unit, mounted to a tabbed, low-profile 36mm diameter PCB, installed on a 48mm x 20mm aluminum extruded heat sink, pre-wired for one-step installation. With high performance InGaN characteristics, the new BWL-3 Series features high flux density, high lumen output (60 lm typical), and low power consumption with viewing angle of 120 degree. Operating temperature range is from -40º to 120ºC.
The NovaBrite BWL series 3 Watt LED system is manufactured in compliance with RoHS Pb-free materials and processes to meet the increasing demand for environmental responsibility. Emitted color is red, green, blue, amber and white. An RGB version is under development and will be available in May. Two dome lens styles are also available, which create narrower high intensity 30 and 60 degree viewing angles, respectively.
"The new NovaBrite Series opens many new doors to applications where LED power and intensity solutions have been limited to clustered LED displays. This single lens capability provide increase control and a single, finitely high intensity light source to answer several specific needs," stated George Lee, president.
He further stated, "We anticipate immediate further growth of this high power product group to enable the designer to bring LED reliability and life characteristics into applications formerly limited to incandescent bulb products."
The BWL 3 Watt Series is priced from $6.00 each (white, P/N BWL3A3A01 Series) in production quantities, priced lower in standard single colors, and is available from stock or the factory in special configurations.
Contact
American Bright Optoelectronics Corporation 13815-C Magnolia Ave., Chino, CA 91710 Steven Chen, Applications Engineering Tel. (909) 628-5050
E-mail:stevenc@americanbrightled.com
Web Site:http://www.americanbrightled.com