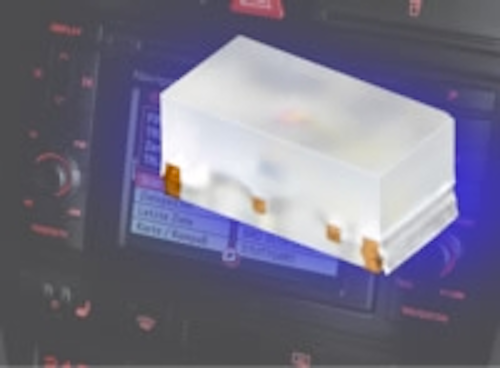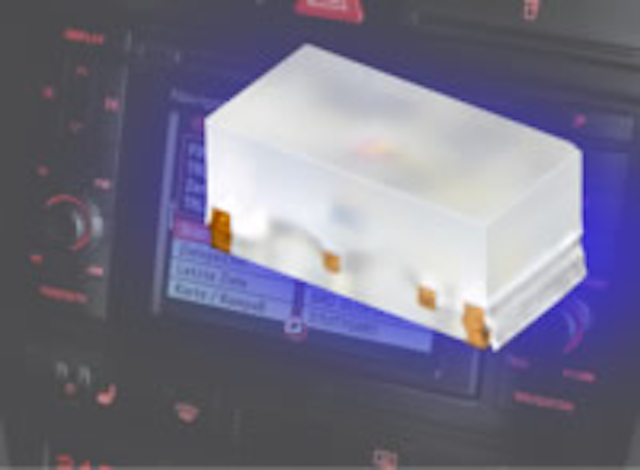 Date Announced: 13 Apr 2005
New Red (628 nm), Orange (605 nm), and Yellow (588 nm) LEDs Offer Luminous Intensity up to 7.5 mcd
SANTA CLARA, CALIFORNIA — April 13, 2005 — To meet the increasing demand for aluminum indium gallium phosphor (AllnGaP)-based ultra-miniature SMD LEDs, Vishay Intertechnology, Inc. (NYSE: VSH) today announced the release of the exceptionally bright TLMx100x LEDs in red, soft orange, and yellow.
With dimensions of just 1.6 mm by 0.8 mm by 0.6 mm, the smallest size yet for this type of device, the three new devices released today are compatible with the industry-standard 0603 chipled footprint and offer a new level of design flexibility in a broader range of higher-performing end products.
Typical applications for the new series include backlight keypads; indicator and backlighting for audio and video equipment, office equipment, and battery-driven devices; displays for mobile phones; flat backlights for LCDs, switches, and symbols; consumer appliances; and medical instruments.
The red TLMS1000 (628 nm), orange TLMO1000 (605 nm), and yellow TLMY1000 (588 nm) feature luminous intensity of 4 mcd, 7.5 mcd, and 7.5 mcd, respectively, with a luminous intensity ratio of less than 1.6 per packing unit. The viewing angle for these devices is an extremely wide 160°. They are rated for maximum DC forward current of 15 mA, reverse voltage of 12 V, and ESD withstand voltage up to 1 KV.
Samples and production quantities of the new TLMS1000, TLMO1000, and TLMY1000 SMD LEDs are available now with lead times of six weeks for larger orders.
Vishay Intertechnology, Inc., a Fortune 1,000 Company listed on the NYSE (VSH), is one of the world's largest manufacturers of discrete semiconductors (diodes, rectifiers, transistors, and optoelectronics) and selected ICs, and passive electronic components (resistors, capacitors, inductors, and transducers). Vishay's components can be found in products manufactured in a very broad range of industries worldwide. Vishay is headquartered in Malvern, Pennsylvania, and has operations in 17 countries employing over 25,000 people. Vishay can be found on the Internet at http://www.vishay.com.
Contact
Bob Decker Wall Street Communications Silicon Valley Office 1 415 409 0233 (voice) 1 650 618 1512 (facsimile) www.wallstcom.com
E-mail:bob.decker@wallstcom.com
Web Site:http://www.vishay.com