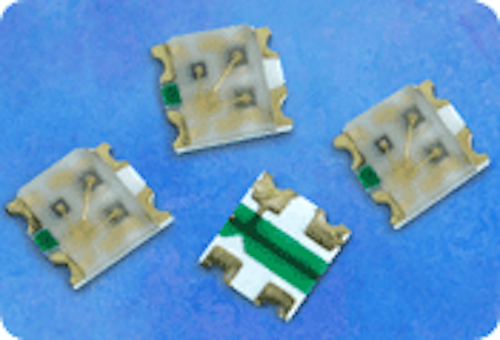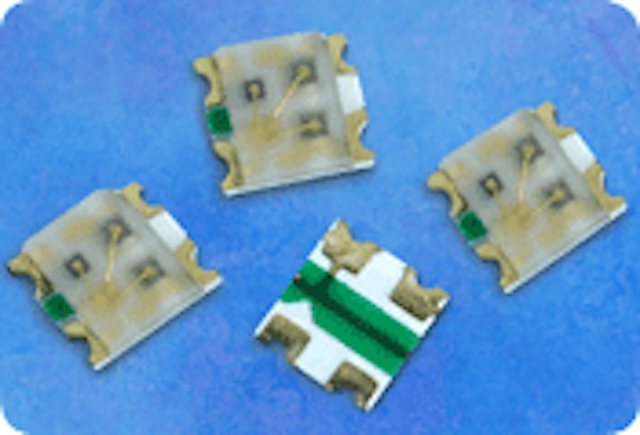 Date Announced: 20 Jul 2005
0.35 mm-Thick Device Enables Backlighting for Ultra-Thin, Feature-Rich Mobile Phones and PDAs
***
Agilent Technologies Inc. (NYSE:A) today introduced the industry's thinnest top-firing tricolor surface-mount LED (light-emitting diode), intended primarily for backlighting and status indicators in ultra-thin, feature-rich mobile phones and PDAs. The new top-firing LED, in addition to Agilent's recently announced side-firing LEDs, permits handset and PDA designers to mix separate red, green and blue light sources in any combination.
In handsets and other handheld devices, separate colors can indicate incoming SMS (short messaging system) messages, e-mail and stock news. They can even identify different callers. The availability of an unlimited range of illumination colors also provides a new degree of design flexibility in many other applications, such as backlighting and status indication in office and industrial equipment and home appliances.
"Our new 0.35 mm-thick, top-firing tricolor LED is the first of its kind to include a red, green and blue die in such a small package," said Cheng Kai Chong, worldwide marketing manager for the Optoelectronic Products Division in Agilent's Semiconductor Products Group. "Our latest device is enabling the next generation of ultra-thin portable products with multiple backlighting color options. As an LED leader, we're committed to supporting our customers' illumination and backlighting applications with the broadest line of quality products in the high volumes required."
The Agilent HSMF-C114 tricolor chip-type LED features a four-terminal common anode connection and is housed in Agilent's miniature 1.6 mm (L) x 1.5 mm (W) x 0.35 mm (H) package. Precision manufacturing techniques ensure perfect pick-up by automated manufacturing equipment.
The HSMF-C114 combines InGaN (indium gallium nitride) blue (470 nm dominant wavelength, 70 mcd typical brightness at 20 mA operating current); InGaN green (525 nm dominant wavelength, 180-mcd typical brightness); and AlInGaP (aluminum indium gallium phosphide) red (626 nm, 85 mcd) die. The LED features diffused optics, is compatible with IR (infrared) reflow soldering processes, and is certified lead-free. Agilent's ChipLED package features high thermal dissipation capability for maximum reliability.
U.S. Pricing and Availability
The Agilent HSMF-C114 is priced at $1.00 each in 1,000-piece quantities. These ChipLED devices are available now through Agilent's direct sales channel and worldwide distribution partners. ChipLED devices are shipped with EIA481-compliant standard packaging: 8 mm carrier tape on 7-inch diameter reel and sealed in moisture barrier bags.
Contact
Agilent
E-mail:mark_alden@agilent.com
Web Site:http://www.agilent.com/view/led