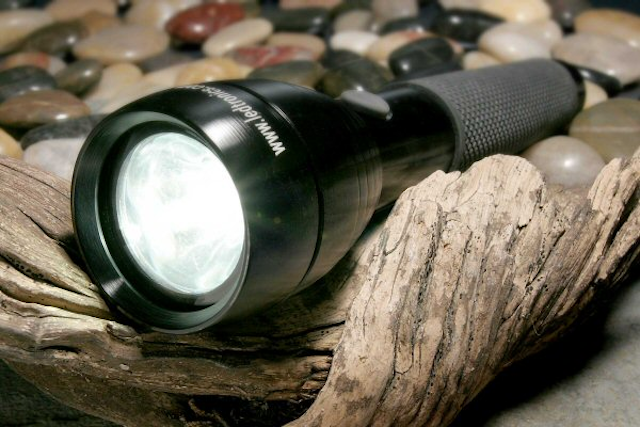 Date Announced: 06 Jul 2005
LEDtronics® introduces a new, powerful LED FlashLED - the FlashLED FLT-4001. Press the switch and a dazzling 1800 foot-candles of white light erupts from the 1-Watt Luxeon™ LEDs. (Luxeon LEDs are the brightest solid-state light source commercially available.)
The powerful 1-Watt LED integrates a collimator that focuses the light into tight beam for an intensity of 2000fc. This long-lasting white LED lamp operates for more than 50,000 hours (six years). The fully integrated flashlight head (the LED lamp, lens and reflector) optimizes light color, intensity and dispersion.
Energy-efficient, FlashLED FLT-4001 operates for 8 days on three standard alkaline C-cell batteries. It measures 9.94 (253mm) in length and weighs 15.5 ounces (0.439kg) with the batteries installed. Use the FlashLED FLT-4001 as a reliable portable light source for examining instruments, reading maps, navigating trails, inspecting utility conduits, hunting, policing, etc. . . .
Precision manufacturing makes the FlashLED FLT-4001 exceptionally reliable by creating tight connections between components, which prevents the movement of parts and loose connections. A spring loaded in the end cap maintains secure contact between the batteries and the flashlight head. The CNC-machined anodized aluminum housing enables it to withstand the toughest of tasks and working conditions. A sealed rubber switch and o-rings prevent moisture and corrosive agents from seeping in and adversely effecting operation. An etched, crosshatched rubber surface on the barrel aids handling in inclement weather. A removable wrist strap is included.
With an average white LED life span of 50,000-plus hours (six years), LEDs operate reliably year-after-year. Solid-state design renders LEDs impervious to electrical and mechanical shock, vibration, frequent switching and environmental fluctuation. LED lamps use only 10% - 20% of the energy consumed by equivalent incandescent lamps that when combined with their maintenance-free operation results in substantial cost savings.
Price for the FlashLED FLT-4001 is $59.95 each. Quantity discounts are available. Availability is stock to 4 - 6 weeks for special requirements.
Contact
Jordon Papanier 310-534-1505
E-mail:jpapanier@ledtronics.com