Para Light adds pastel-colored LEDs for surface and through-hole mounting
Jul 12th, 2005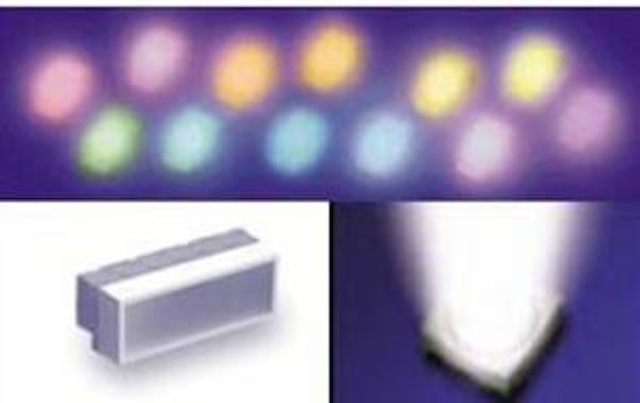 Date Announced: 12 Jul 2005
Para Light Corp., a world leader in providing LEDs to electronics OEMs, has introduced a line of exotic pastel-colored LEDs available for both surface and through-hole mounting.
The new Para Light Pastel series LEDs come in a variety of single- and multi-color packages and are ideal for use as power indicators and for backlighting applications in mobile telephones, PDAs (personal digital assistants), MP3 devices, and other wireless handheld equipment.
Individual colors include ultra-violet, lime green, light blue, and ultra-bright pink and purple, each available in industry-standard 1206, 0805 and 0603 packages. Multi-color LEDs are available in 1206, 0603, 1311 and 0605 packages.
Prices for the new Para Light Pastel series start at $0.06 and $0.20, respectively, for single-color and multi-color packages. Delivery time for quantity orders is 5-6 weeks. More information is available from Para Light Corp., 515 Spanish Lane, Walnut, Calif., 91789; telephone 909-468-4866 or, toll free, 877-377-7272; fax 909-468-4876; email sales@paralight.us; or on the Web at www.paralight.us.
Para Light is a major global provider of high-quality optoelectronic components and a pioneer in LED manufacturing. Founded in 1987 and headquartered in Taiwan, with North American offices in California, the company employs about 1,500 people, including a quality-control staff of 80 and a dedicated R&D staff of 50.
Para Light maintains state-of-the-art facilities in both Taiwan and China; is ISO 9002, QS-9000 and TS 16949 certified; and continuously invests in the latest automated equipment to ensure the highest quality and to control the cost of its products.
Contact
Para Light Corp. 515 Spanish Lane, Walnut, CA 91789, USA telephone 909-468-4866 toll free, 877-377-7272 fax 909-468-4876 E-mail: sales@paralight.us
E-mail:rick@paralight.us
Web Site:http://www.paralight.us