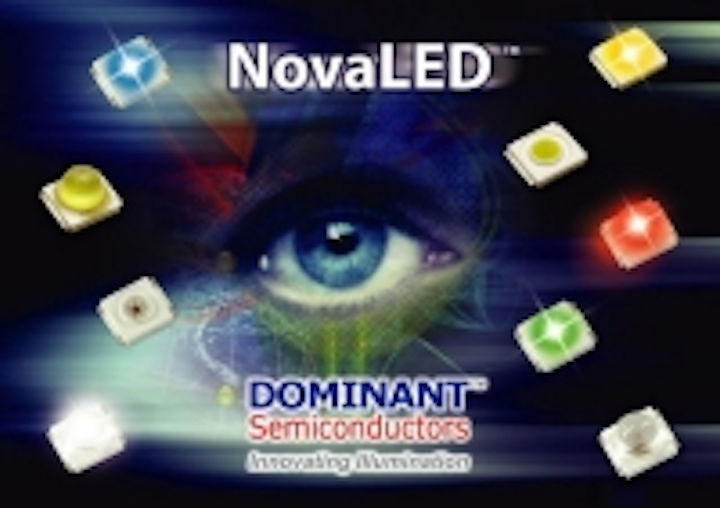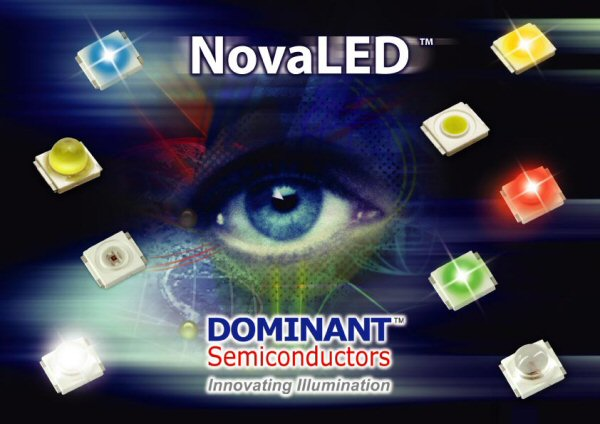 Date Announced: 11 Oct 2005
- Bright and Brilliant Nova-1 Watt Series LED By DOMINANT
- Super high brightness surface mount LED, Ultra low high profile
DOMINANT Semiconductors, a dynamic corporation that is among the world's leading SMT LED manufacturers, presents another state-of-the-art creation in the competitive LED industry – the radiant Nova-1 Watt LED series!
With the on going demand of highly efficient brilliant light sources, Nova-1 Watt series definitely will be your next projects option that not only brighten up your next projects but also enhance your productivity.
Designed for high current drive with a super high flux output and presented in a compact package outline (6.0mm x 6.0mm x 1.5mm), these Nova-1 Watt showcases the latest technological advent in this range.
The Nova-1 Watt series, with a 40° and 120° viewing angle and ultra low height profile, which is only 1.5mm, come with the option of accompanying LED lens. These brilliantly radiant designs are equipped with the advanced JEDEC Moisture Sensitivity Level 2 and compatible to both IR re-flow soldering and TTW soldering.
In addition, DOMINANT capability to provide the high light output at a higher operating currents is due to the units low thermal resistant, about 20 K/W for Rth (js), which provides improved heat dissipation.
The new design features high brightness in a wide range of color selections, including Blue, True Green, Yellow, Red and White. Being lead-free in accordance with the RoHS, the Nova-1 Watt series are suitably geared towards today's technological specifications. Besides, the Nova-1 Watt series offer a true high-intensity light source that leverages the benefits of greater stability and longer life of the LED.
Featuring a staggering brilliance and significant flux output, Nova-1 Watt series are highly suitable for both conventional lighting and specialized applications such as automotive signal lights, traffic lights, channel lights, garden lights, architecture lights and general lights.
With our reputable industry experience, innovation and prowess, the best products and services that exceed customer exact specifications are assured. These masterfully engineered designs that epitomize versatility and optimum brightness will redefine productivity, in line with today's vast technological demands!
About DOMINANT Semiconductors
DOMINANT Semiconductors is a corporation that is among the worlds leading SMT LED Manufacturers. An excellence – driven organization, it offers comprehensive variety of product range and selection for diverse industries and applications. Featuring an internationally certified quality assurance acclaim, DOMINANT's extra bright LEDs are perfectly suited for various lighting applications in the automotive, consumer and communications as well as industrial sectors. With extensive industry experience and relentless pursuit of innovation, DOMINANT with its state-of-art manufacturing, research and testing capabilities has become a trusted and reliable brand across the globe. More information about DOMINANT Semiconductors Sdn. Bhd. can be found on the Internet at http://www.dominant-semi.com. DOMINANT is a QS 9000 and ISO9001 certified company.
Contact
Marketing Communication Tee Mei Ghee Tel: +60 (06) 2833566 (Ext: 2117) Fax: +60 (06) 2830566
E-mail:mei-ghee.tee@dominant-semi.com
Web Site:http://www.dominant-semi.com