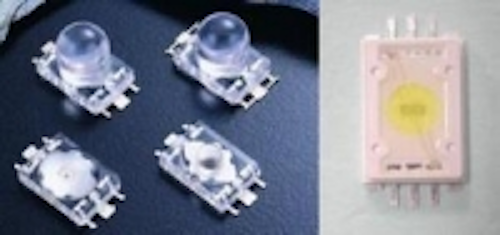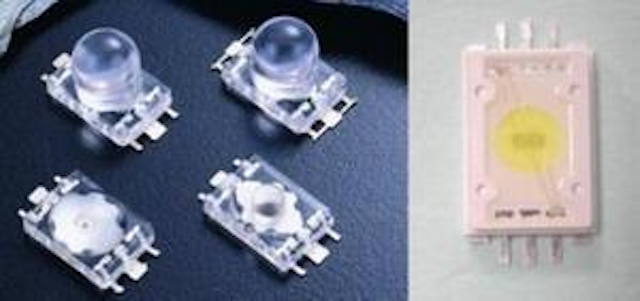 Date Announced: 28 Oct 2005
Para Light Corp., a world leader in providing LEDs to electronics OEMs, has introduced infrared versions of its popular EP2 and EP4 families of enhanced-power LEDs. The new IR series LEDs are designed for use in remote control and charge-coupled devices, infrared applied systems, smoke detectors, security lighting, and a variety of other applications.
The IR series' EP2 and EP4 versions respectively operate at currents of 350 and 700 milliamps, with power dissipation of 0.5 and 1.5 watts. The EP2 packages are offered with viewing angles of 10, 30 and 100 degrees, the EP4 packages with viewing angles of 60, 90 and 100 degrees.
Forward voltage ranges from 1.4 to 2.5 volts and radiant intensity from 70 to 800 mW/sr (milliwatts per steradian). The LEDs are optimized to operate at wavelengths of 850, 880 and 940 nanometers.
Para Light's new IR series E-power LEDs are priced from $0.50 to $4 each, with samples available for qualified customers. Delivery is 5 weeks.
Para Light is a major global provider of high-quality optoelectronic components and a pioneer in LED manufacturing. Founded in 1987 and headquartered in Taiwan, with North American offices in California, the company employs about 1,500 people, including a quality-control staff of 80 and a dedicated R&D staff of 50. Para Light maintains state-of-the-art facilities in both Taiwan and China; is ISO 9002, QS-9000 and TS 16949 certified; and continuously invests in the latest automated equipment to ensure the highest quality and to control the cost of its products.
Contact
Para Light Corp. 515 Spanish Lane, Walnut, CA 91789, USA telephone 909-468-4866 toll free, 877-377-7272 fax 909-468-4876 E-mail: sales@paralight.us
E-mail:rick@paralight.us
Web Site:http://www.paralight.us