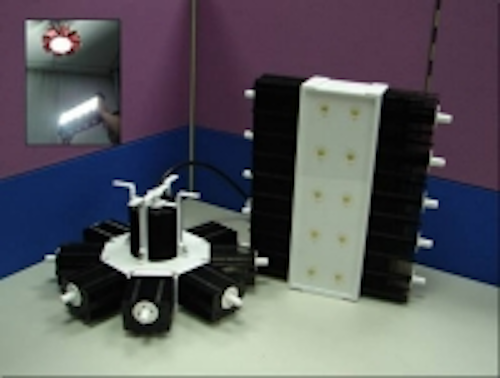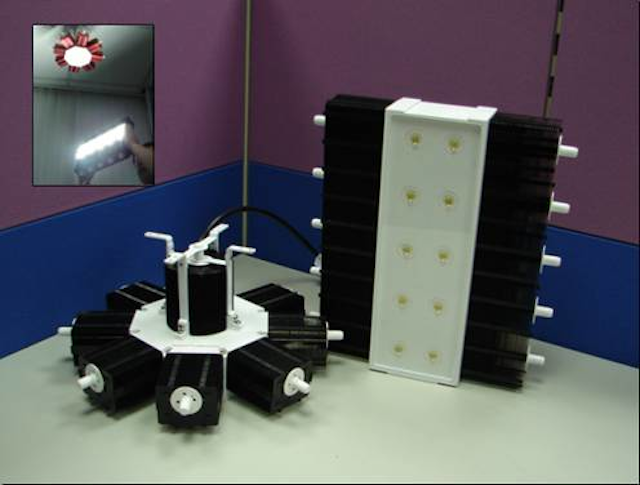 Date Announced: 26 Oct 2005
- Over 2,000 lumen output in a modular matrix design for flexible linear extension.
Based on a matrix array design with a double-row module of 10 LEDs at 80 Watts (10 x 8 W), NeoPac introduces a new NeoBulb™ Combo series product, called Array, to set new standards for high-end general lighting applications.
Providing brightness output at over 2,000 lumen, the Array is the latest success from the NeoPac Lighting that can be used in a wide variety of indoor and outdoor settings to achieve excellent illumination efficiency.
The photo shows the NeoBulb™ Combo series Products - 80 W Array and 72 W Lotus.
Compared to the recently launched
72 Watts LED Lotus Lantern
, the basic module of the 80 Watts Array is a matrix of two rows side by side with 5 ultra-high-power point-light-source NeoBulb Light Engines on each row, to combine 10 light sources in each single module. Its dimensions for each Array module are 300 mm in length, 280 mm in width, and 70 mm in height that include heat dissipation modules.
With the modular design, it can be easily assembled to customer requirements by extending length-wise through the addition of the "Array" 10 LEDs 80-Watt individual module. Through this flexible arrangement, two Array modules can be joined as one unit for 600 mm in length with 20 LEDs light sources to provide illumination output at over 4,000 lumen, and so on.
The high brightness output is made possible by the NeoPac's in-house proprietary system-in-package LED technology with high efficiency in heat dissipation, by controlling the LEDs junction temperature (Tj) at under 60 °C to ensure the LED's long life durability and maintaining its spectral characteristics.
For more information on this technology, view NeoPac's
Company Profile
.
NeoPac Lighting President Jeffrey Chen said this 80 W Array design can have additional modules to expand further in a linear fashion, making the "Array" a flexible functioning device that can be fitted for customer's convenient application in general lighting and other specific utilization.
Chen said the 'Array" is outfitted with NeoPac's point-light-source NeoBulb™ Light Engines that come in white light, Red, Green, Blue as well in combination of RBG colours, for illumination in a 70 degree-angle cone to cover a wide area downward in all directions.
Given the LED high lighting output efficiency and long durability, he said this 80 W "Array" can replace 200 W incandescent lamps and other current indoor and outdoor general lighting devices.
Jeffrey Chen also indicated the linear matrix and modular design of Array is the new entry into the long lifetime, low maintenance, high luminous flux, and brightness requirement for the outdoor roadway and street lighting market. A NeoBulb™ 80 Watts LEDs Street Light with over 4,000 lm light output that based on the same Array configuration is also under development in NeoPac Lighting and will be commercialized by the end of this year. The output of LEDs light will be doubled in 2006, according to NeoPac Lighting product roadmap.
According to the company information release, the "Array" features NeoPac Lighting's proprietary system-in-package NeoBulb™ Universal Platform design and the technology platform already has 18 patents filed internationally and most of patents were filed through PCT (Patent Cooperation Treaty).
The information states that NeoBulb™ Combo series, including the "Array" and 'Lotus", utilize latest opto-electronic and thermal management technology to assemble ultra-high-power NeoBulb™ Light Engines into a variety of light source combination.
Chen explained, "Through our ultra efficiency thermal management by using proprietary heat pipe technology, the system thermal resistance (Rja) of NeoBulb Light Engine is only at 4.37 ℃/W (LEDs Junction to Ambient). Therefore, the Array can operate for long period of time at room temperature(Ta=25 °C) and its LED junction temperature (Tj) would be well-controlled under 60℃."
In addition, he indicated the "Array" is same like other NeoBulb™ Combo series as "green" products that are environmentally-friendly, with no mercury and other heavy metal materials in conforming to EU and new stringent international regulations on pollution and environmental protection.
He said that it is also a great energy-saving lighting device, where the brightness output from the 80 W "Array" is equivalent to 200 Watts incandescent lamp, reducing energy expenditure by more than 50 percent. This is a big plus for the industry and consumers, as well for government planners and national utility companies, given the forecast of increasing energy costs worldwide in the coming years.
For more information, view NeoPac's
Company Profile
.
Contact
Jeffrey Chen President NeoPac Lighting, Inc. Tel: +886-3-558-3620 ext. 201 Fax: +886-3-558-6909
E-mail:jchen@neopac-lighting.com
Web Site:http://www.neopac-lighting.com