Polymer Optics range enable Cree X-Lamp LEDs
Oct 3rd, 2005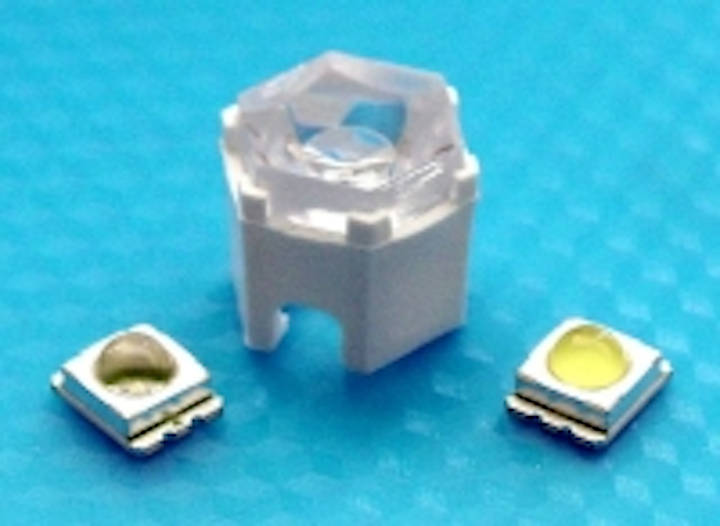 Date Announced: 03 Oct 2005
The Polymer Optics Ltd (POL) compact range of optics for use with leading high power LEDs now includes an option for use with the Cree X-Lamp 7090 range.
The whole range of POL optics can be used - the single cell 12.9mm hexagon optics and the 7 Cell Cluster optics ranges.
Their highly efficient hexagonal format can be clustered in densely packed arrays to give uniform illumination over the whole luminaire face.
Being made from high quality UL rated Polycarbonate, as opposed to lower priced Acrylic material (PMMA), POL's optics can be safely used to withstand higher heat levels generated in high power LED applications and for exterior use.
The range offers 6°, 15° and 6° x 15° elliptical pattern half angles from the coloured LEDs with slightly wider beam patterns from the white devices. There are also single cell and 7 Cell Cluster concentrators for use with fibre optic bundles and lightguides.
The range of POL optics is available from all the leading Cree distributors. Full details can be found on the Polymer Optics Ltd web site at www.polymer-optics.co.uk
Although the standard range is comprehensive, custom product can also be designed and tooled to meet specific requirements of an individual customer application.
Contact
Chris Ferrari - Commercial Director Polymer Optics Limited 6, Kiln Ride, Wokingham Berkshire, RG40 3JL, England Telephone/fax: +44 (0)118 989 3341
E-mail:info@polymer-optics.co.uk
Web Site:http://www.polymer-optics.co.uk