Melexis MLX10803 LED driver IC advances solid-state lighting
Oct 14th, 2005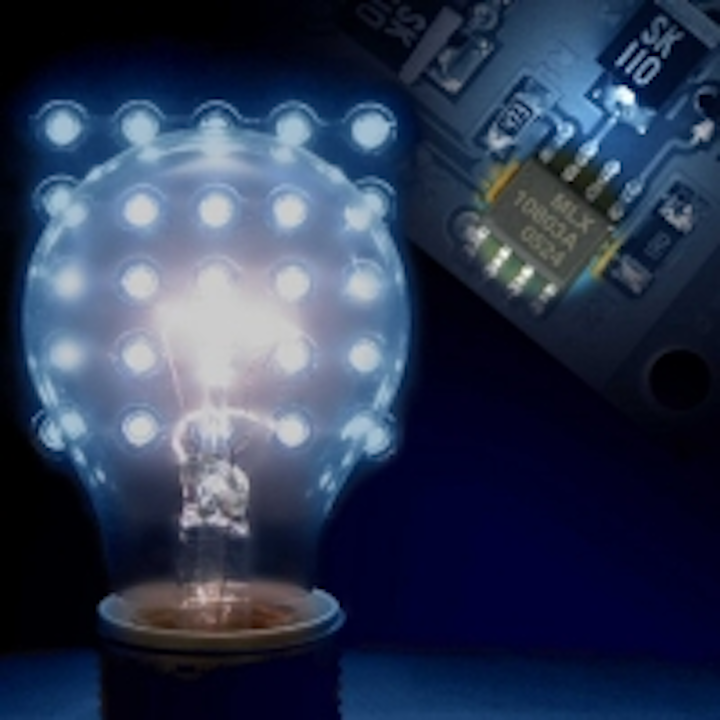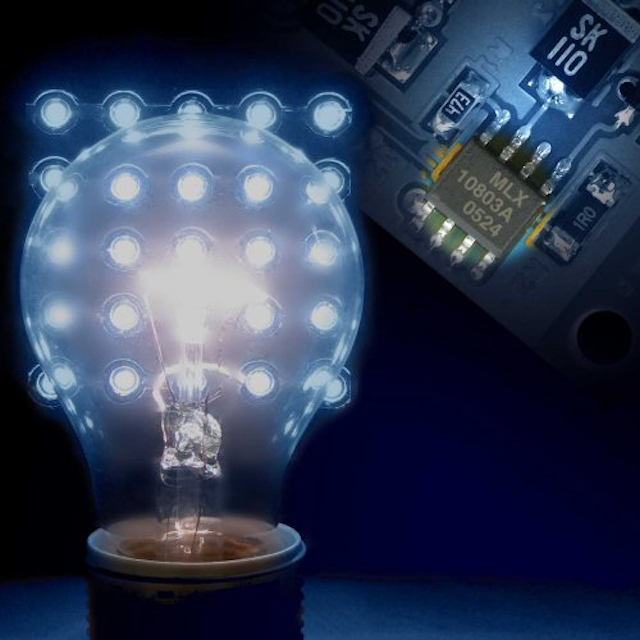 Date Announced: 14 Oct 2005
Melexis has now extended its LED driver family with a new Power LED driver optimized for performance, flexibility, robustness and cost.
MLX10803 is designed for automotive interior and exterior applications but can generically be used in all high volume single or Power LED array applications that require temperature compensation, low noise and high efficiency at the lowest possible system cost.
The MLX10803 is a highly adaptable circuit allowing superior protection and intelligent features compared to existing solutions. It includes several reference inputs designed to allow external sensors temperature compensation in order to guarantee a constant light output or light level and to protect both LEDs and surrounding circuitry against overheating.
The MLX10803 operates normally from DC supply of 6V to 32V. A minimum of external components can be added to allow the IC to operate on 115 or 220V, 50 or 60 cycle AC. It can efficiently drive a virtually unlimited number of High Intensity LEDs in the range of 1 to 1000 Watt with appropriate external discrete power devices.
MLX10803 offers superior performance in temperature compensation and intelligence such as dimming and soft increase of light level at start up. Typical efficiency rates vary between 70% for single LED applications and more than 95% for LED array applications.
All Melexis LED driver ICs are qualified according to the automotive ISO/TS16949 standard which explains their robustness. The EMI behaviour of the entire module is optimized by randomizing the switching frequency.
Other illustrations of this robustness are the ICs intrinsic load dump protection up to 80V, operating temperature range from -40°C to 125°C and normal looking operation even outside the specified ranges where it should be used.
Roger Alm, product marketing manager of Melexis LED driver products, claims: "any designer using MLX10803 to create a switching LED driver can be confident that there is no other competing circuit that is significantly cheaper, has less noise or is more efficient or robust."
MLX10803 and MLX10801 provide designers with a complementary selection of driver IC's. MLX10801 offers very wide programming options while the MLX10803 is cost optimized for high volume applications.
Engineering samples of MLX10803 are available in SOIC8 package. Please contact Melexis at www.melexis.com for more information or in case operation is required outside the specified ranges.
About Melexis:
Melexis Microelectronic Integrated Systems N.V. (Euronext Brussels: MELE) designs, develops, tests and markets advanced integrated semiconductor devices. For over a decade, our customers in the automotive electronics market have inspired us to create, manufacture and deliver advanced Mixed Signal semiconductors, sensor ICs, and programmable sensor IC systems. The company sells its products to a wide customer base of automotive system manufacturers in Europe, North America and Asia. Melexis' products include microcontrollers, Hall (magnetic), optical sensor ICs, interface ICs for pressure and acceleration sensors, micromachined silicon pressure, acceleration and gyroscope sensors , application specific integrated circuits (ASICs), wireless communication (RF) and RFID components, in each case principally for automotive applications.
Contact
Roger Alm Phone: +49 361 4276804 Mobile: +49 173 5967 988
E-mail:rah@melexis.com
Web Site:http://www.melexis.com